Andre Lotterer keeps Audi's new e-tron R18 on top in second World Endurance Championship practice at Spa
| | |
| --- | --- |
| By Simon Strang | Thursday, May 3rd 2012, 16:43 GMT |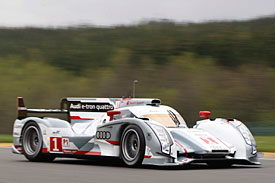 Andre Lotterer set the fastest lap of the weekend so far during a shortened second practice session for the World Endurance Championship six-hour race at Spa Francorchamps as Audi once again dominated the top spots.
The session was stopped early after Alexander Sims crashed the Status Lola Coupe at the top of Eau Rouge. The former McLaren AUTOSPORT BRDC Award winner shunted heavily but emerged from the significantly damaged machine unscathed.
Lotterer set his best time in an e-tron R18 on new tyres in the final third of the session and ended the day more than three tenths up on his team-mate Allan McNish, who also bolted on a new set of Michelins late on.
The two conventional R18s of Oliver Jarvis (fastest of all for a while) and Loic Duval were next up.
Nick Heidfeld, who shares the Rebellion Lola with Neel Jani and Nicolas Prost, was the quickest petrol runner ahead of the Pescarolo Dome. Andrea Belicchi was seventh in the sister Rebellion car.
Olivier Pla was fastest LMP2 runner in the Oak Racing Morgan-Judd ahead of Thomas Holzer in the Lotus Lola coupe.
Pos  Cl     Drivers                       Team/Car                     Time
 1.  P1     Fassler/Lotterer/Treluyer      Audi (e-tron)                2m03.075s
 2.  P1     Capello/Kristensen/McNish      Audi (e-tron)                2m03.411s
 3.  P1     Bonanomi/Jarvis                Audi                         2m03.420s
 4.  P1     Dumas/Duval/Gene               Audi                         2m03.869s
 5.  P1     Prost/Jani/Heidfeld            Rebellion Lola-Toyota        2m06.312s
 6.  P1     Bourdais/Minassian             Pescarolo Dome-Judd          2m07.513s
 7.  P1     Belicchi/Primat                Rebellion Lola-Toyota        2m08.400s
 8.  P1     Moreau/Baguette/Kraihamer      OAK Pescarolo-Judd           2m08.622s
 9.  P2     Nicolet/Lahaye/Pla             OAK Morgan-Judd              2m10.058s
10.  P2     Holzer/Schultis/van der Zande  Lotus Lola                   2m10.407s
11.  P1     Brabham/Chandhok/Dumbreck      HPD ARX 03a-Honda            2m10.409s
12.  P2     Panciatici/Ragues/Rusinov      Signatech ORECA-Nissan       2m10.457s
13.  P2     Martin/Kerr/Graves             ORECA-Nissan                 2m10.472s
14.  P2     Perez Companc/Ayari/Kaffer     ORECA-Nissan                 2m10.610s
15.  P2     Potolicchio/Dalziel/Sarrazin   HPD ARX 03b-Honda            2m10.665s
16.  P2     Dolan/Hancock                  Jota Zytek-Nissan            2m11.122s
17.  P2     Sims/Buurman/Iannetta          Lola-Judd                    2m11.275s
18.  P2     Firth/Hughes/Hartley           Murphy ORECA-Nissan          2m11.534s
19.  P2     Heinemeir Hansson/Leinders     OAK Morgan-Judd              2m12.193s
20.  P2     Giroix/Jousse/Johansson        Gulf Lola-Nissan             2m12.384s
21.  P2     Frey/Hirschi/Meichtry          Race Performance ORECA-Judd  2m12.436s
22.  P2     Zugel/Gonzalez/Julian          Greaves Zytek-Nissan         2m12.587s
23.  P2     Clarke/Briere/Petersen         Boutsen Ginion ORECA-Nissan  2m13.072s
24.  P2     Mailleux/Lombard/Tresson       Signatech ORECA-Nissan       2m13.179s
25.  P2     Fatien/Ihara/Deletraz          Gulf Lola-Nissan             2m15.531s
26.  P2     Moro/Weeda/Rossiter            Lotus Lola                   2m18.559s
27.  P2     Thirion/Haezebrouck            Extreme Limite Norma-Judd    2m19.472s
28.  GTE P  Lieb/Lietz                     Felbermayr Porsche           2m19.668s
29.  GTE P  Fernandez/Mucke/Turner         Aston Martin                 2m20.713s
30.  GTE P  Makowiecki/Melo                Luxury Ferrari               2m21.033s
31.  GTE P  Fisichella/Bruni               AF Corse Ferrari             2m21.099s
32.  GTE A  Armindo/Narac/Pons             Imsa Porsche                 2m21.874s
33.  GTE P  Bertolini/Beretta              AF Corse Ferrari             2m22.154s
34.  GTE A  Belloc/Bourret                 Larbre Corvette              2m22.970s
35.  GTE A  Kauffman/Vickers/Aguas         AF Waltrip Ferrari           2m23.402s
36.  GTE A  Perazzini/Cioci/Griffin        AF Corse Ferrari             2m23.459s
37.  GTE A  Krohn/Jonsson/Rugolo           Krohn Ferrari                2m24.368s
38.  GTE A  Camathias/Palttala/Daniels     JWA Porsche                  2m24.441s
39.  GTE A  Ried/Roda/Ruberti              Felbermayr Porsche           2m24.679s
40.  GTE A  Ehret/Montecalvo/Jeannette     Luxury Ferrari               2m24.862s
41.  GTE A  Bornhauser/Canal/Rees          Larbre Corvette              2m25.313s
42.  P1     Leventis/Watts/Kane            HPD ARX 03a-Honda