Andre Lotterer keeps Audi on top in second Sebring 12 Hours practice
| | |
| --- | --- |
| | Thursday, March 15th 2012, 20:30 GMT |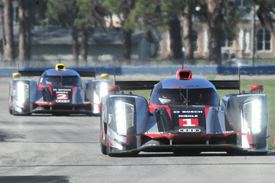 Audi continued its dominance of the Sebring 12 Hours weekend by locking out the top three positions in the second practice session on Thursday.
Having gone fastest in the morning session, Romain Dumas put the #2 R18 turbodiesel he shares with Timo Bernhard and Loic Duval at the top of the timesheets again, only to be knocked off by 0.478s by Andre Lotterer in the sister car.
Lotterer lapped the Florida circuit in 1m47.761s - the best time of the day- in the #1 car he is sharing with Benoit Treluyer and Romain Dumas. The #3 Allan McNish/Rinaldo Capello/Tom Kristensen completed the lock-out.
Guillaume Moreau was the best non-Audi driver in fourth for the OAK Pescarolo squad, but was 1.7s off the pace. The best of the cars registered for the American Le Mans Series, rather than the World Endurance Championship was the Pickett Racing HPD, driven by Klaus Graf on its fastest lap.
Level 5 again set the pace in LMP2, Ryan Hunter-Reay heading the sister HPD driven by Christophe Bouchut. The OAK Morgan of Matthieu Lahaye was the best WEC-registered car in fourth in class.
GTE Pro honours went to the Gianmaria Bruni in the best of the AF Corse Ferraris, Uwe Alzen his closest challenger in his RLL BMW. Julien Canal set the pace in GTE Am in his Larbre Corvette.
The pace-setters in LMPC and GTC were, respectively, Pablo Sanchez Merchant ORECA and Sean Edwards for the NGT Porsche squad.
.
Practice 2 Results:

Pos Cl     Drivers                        Team/Car                  Time
 1. P1	   Fassler/Lotterer/Treluyer      Audi                  1m47.761s
 2. P1	   Bernhard/Dumas/Duval           Audi                  1m48.239s
 3. P1	   Capello/Kristensen/McNish      Audi                  1m49.202s
 4. P1	   Baguette/Kraihamer/Moreau      Oak Pescarolo-Judd    1m49.439s
 5. P1	   Graf/Luhr/Pagenaud             Pickett HPD           1m49.921s
 6. P1	   Heidfeld/Jani/Prost            Rebellion Lola-Toyota 1m51.555s
 7. P1	   Kane/Leventis/Watts            Strakka HPD           1m51.684s
 8. P1	   Boullion/Collard/Jousse        Pescarolo-Judd        1m51.994s
 9. P1	   Belicchi/Bleekemolen/Primat    Rebellion Lola-Toyota 1m52.445s
10. P1	   Brabham/Chandhok/Dumbreck      JRM HPD               1m52.818s
11. P2	   Diaz/Hunter-Reay/Tucker        Level 5 HPD           1m53.094s
12. P2	   Barbosa/Bouchut/Tucker         Level 5 HPD           1m53.416s
13. P2	   Dracone/Hansson/Plowman        Conquest Morgan       1m53.481s
14. P2	   Lahaye/Nicolet/Pla             OAK Morgan-Judd       1m54.248s
15. P2	   Julian/Gonzalez/Zugel          Greaves Zytek-Nissan  1m54.594s
16. P2	   Graves/Kerr/Martin             ADR-Delta ORECA-Nissan1m55.362s
17. PC	   Ducote/Echeverria/Sanchez      Merchant ORECA FLM    1m55.573s
18. P2	   Companc/Kaffer/Ayari           Pecom ORECA-Nissan    1m55.751s
19. PC     Matos/Nicolosi/Vera            Performance ORECA     1m56.000s
20. PC	   Dobson/Leitzinger/Junco        PR1 ORECA             1m56.161s
21. PC	   Gidley/Guasch/Wills            Muscle Milk ORECA     1m56.262s
22. P2	   Dalziel/Potolicchio/Sarrazin   Starworks HPD         1m56.549s
23. P2	   Holzer/Moro/Shultis            Lotus Lola            1m56.865s
24. P2     Lombard/Mailleux/Tresson       Signatech ORECA-Nissan1m56.871s
25. PC     Cameron/Ende/Richard           Dempsey ORECA         1m56.928s
27. PC	   Downs/Marcelli/Stirling        Merchant ORECA        1m57.059s
27. PC	   Friselle/Popow/Viso            CORE ORECA            1m57.894s
28. PC	   Drissi/Gonzalez/Junqueira      RSR ORECA             1m58.199s
39. P2	   Giroix/Jousse/Charouz          Gulf Lola-Nissan      1m58.260s
30. PC	   Bennett/Braun/Lux              CORE ORECA            1m59.078s
31. GTE P  Bruni/Fisichella/Vilander      AF Corse Ferrari      2m00.334s
32. GTE P  Alzen/Auberlen/Muller          BMW Team RLL          2m00.891s
33. GTE P  Bergmeister/Holzer/Long        Flying Lizard Porsche 2m01.251s
34. GTE P  Makowiecki/Melo/Vernay         Luxury Ferrari        2m01.312s
35. GTE P  Garcia/Magnussen/Taylor        Corvette              2m01.316s
36. GTE P  Gavin/Milner/Westbrook         Corvette              2m01.576s
37. GTE P  Hand/Muller/Summerton          BMW Team RLL          2m01.850s
38. GTE P  Bertolini/Beretta/Gioci        AF Corse Ferrari      2m01.874s
39. GTE P  Fernandez/Mucke/Turner         Aston Martin          2m01.998s
40. GTE P  Cosmo/Sharp/van Overbeek       Extreme Speed Ferrari 2m02.557s
41. GTE P  Lieb/Lietz/Pilet               Felbermayr Porsche    2m02.696s
42. GTE P  Henzler/Ragginger/Sellers      Falken Porsche        2m02.724s
43. GTE A  Bornhauser/Canal/Lamy          Larbre Corvette       2m02.747s
44. P2	   Fatien/Ihara/Johansson         Gulf Lola-Nissan      2m03.301s
45. GTE P  Brown/Lazzaro/Segal            Extreme Speed Ferrari 2m03.429s
46. GTE A  Farnbacher/Ehret/Jakubowski    Luxury Ferrari        2m03.705s
47. GTE A  Krohn/Jonsson/Rugolo           Krohn Ferrari         2m03.791s
48. GTE P  Bell/Maassen/Miller            Paul Miller Porsche   2m03.812s
49. GTE A  Ried/Roda/Ruberti              Felbermayr Porsche    2m04.154s
50. GTE P  Lally/Law/Neiman               Flying Lizard Porsche 2m04.383s
51. GTE A  Belloc/Bourret/Gibon           Larbre Corvette       2m06.484s
52. GTC    Cisneros/Edwards/Kauffmann     NGT Porsche           2m06.819s
53. GTE A  Binnie/Palttala/Camathias      JWA-Avila Porsche     2m07.047s
54. GTC    Bleekemolen/Faulkner/LeSaffre  Green Hornet Porsche  2m07.177s
55. GTC    Bell/Sweedler/von Moltke       Alex Job Porsche      2m07.825s
56. GTC    Bunting/Di Guida/Pumpelly      TRG Porsche           2m07.957s
57. GTC    Benitez Jr/Benitez Sr/Thiim    NGT Porsche           2m08.112s
58. GTE A  Aguas/Kauffman/Waltrip         AF Corse Ferrari      2m08.234s
59. GTC    Bullitt/Cumming/Estre          JDX Porsche           2m08.370s
60. GTC    Avenatti/Faieta/Wagner         Competition Porsche   2m09.003s
61. GTC    Dumoulin/Keen/MacNeil          Alex Job Porsche      2m11.838s
62. GTC    Sofronas/Villeneuve/Welch      GMC Porsche           2m12.601s
63. P1	   Dyson/Smith/Kane               Dyson Lola            No time
64. P2	   Curtis/Fogarty/Pappas          Black Swan Lola       No time