Audi heads first practice session ahead of the Sebring 12 Hours
| | |
| --- | --- |
| | Thursday, March 15th 2012, 17:23 GMT |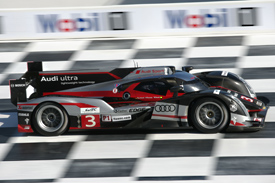 Audi kept up its pre-race Sebring form by topping the weekend's opening practice session.
Romain Dumas, in the #3 R18 he shares with Loic Duval and Timo Bernhard, set the pace with a 1m48.626s - a shade slower than the fastest time during testing, but enough to finish more than one second clear of the field.
Perhaps surprisingly given Audi's almost total lockout of the front three in testing, it was the ALMS-entered #6 Pickett Racing HPD of Lucas Luhr, Klaus Graf and Simon Pagenaud which carried the fight to the lead Audi.
Graf's best lap of 1m49.762s was enough for second, just over 0.3s ahead of Marcel Fassler in the #1 R18 he will share with Andre Lotterer and Benoit Treluyer.
The third R18 of Allan McNish, Tom Kristensen and Rinaldo Capello could only manage fifth, more than 2.5s down on the overall pace. The trio had previously topped the times in two of the four tests.
In its absence, the #13 Rebellion Racing Lola scooped fourth with a 1m51.105s. The car is being shared by Andrea Belicchi, Harold Primat and Jeroen Bleekemolen.
Across in LMP2 the ALMS-entered #055 Level 5 Motorsports HPD of Scott Tucker, Christopher Bouchut and Joao Barbosa set the pace.
The #25 ADR-Delta ORECA-Nissan was second fastest, and hence top of the WEC-registered P2 entries. Robbie Kerr, John Martin and Tor Graves will share the car.
ALMS entries also led the way in GTE Pro, with Oliver Gavin's #4 Corvette leading the #56 RLL BMW M3 of Joey Hand, Dirk Muller and Jonathan Summerton.
The #51 AF Corse Ferrari 458 of Gianmaria Bruni, Giancarlo Fisichella and Toni Vilander was the highest WEC entry in third.
Ferrari's 458 accounted for the fastest runner in the GTE-Am class, with the #58 Luxury Racing car of Pierre Ehret, Dominik Farnbacher and Francois Jakubowski finishing on top.
Practice 1 Results:


Pos Cl     Drivers                        Team/Car                  Time
 1. P1	    Bernhard/Dumas/Duval          Audi                      1m48.626s
 2. P1	    Graf/Luhr/Pagenaud            Muscle Milk HPD           1m49.762s
 3. P1	    Fassler/Lotterer/Treluyer     Audi                      1m50.113s
 4. P1	    Belicchi/Bleekemolen/Primat   Rebellion Lola-Toyota     1m51.105s
 5. P1	    Capello/Kristensen/McNish     Audi                      1m51.342s
 6. P1	    Baguette/Kraihamer/Moreau     Oak Pescarolo-Judd        1m51.703s
 7. P1	    Heidfeld/Jani/Prost           Rebellion Lola-Toyota     1m52.276s
 8. P2	    Barbosa/Bouchut/Tucker        Level 5 Motorsports HPD   1m52.680s
 9. P1	    Kane/Leventis/Watts           Strakka HPD               1m52.720s
10. P2	    Graves/Kerr/Martin            ADR-DELTA ORECA-Nissan    1m53.084s
11. P1	    Boullion/Collard/Jousse       Pescarolo-Judd            1m53.664s
12. P2	    Diaz/Hunter-Reay/Tucker       Level 5 Motorsports HPD   1m53.664s
13. P2	    Companc/Kaffer/Ayari          Pecom ORECA-Nissan        1m54.500s
14. P2	    Elton/Gonzalez/Zugel          Greaves Sytek-Nissan      1m54.876s
15. P1	    Brabham/Chandhok/Dumbreck     JRM HPD                   1m55.557s
16. PC	    Gidley/Guasch/Wills           Muscle Milk ORECA FLM     1m55.881s
17. PC	    Friselle/Popow/Viso           CORE ORECA FLM            1m56.018s
18. P1	    Dyson/Smith/Kane              Dyson Racing Lola B12     1m56.089s
19. P2	    Curtis/Fogarty/Pappas         Black Swan Lola B11       1m56.347s
20. P2	    Dracone/Hansson/Plowman       Conquest Morgan           1m56.853s
21. PC	    Matos/Nicolosi/Vera           Performance ORECA FLM     1m56.878s
22. PC	    Dobson/Leitzinger/Junco       PR1 ORECA FLM             1m56.927s
23. P2	    Lombard/Mailleux/Tresson      Signatech ORECA-Nissan    1m57.449s
24. PC	    Drissi/Gonzalez/Junqueira     RSR Racing ORECA FLM      1m57.624s
25. PC	    Ducote/Echeverria/Sanchez     Merchant ORECA FLM        1m57.814s
26. P2	    Lahaye/Nicolet/Pla            OAK Racing Morgan-Judd    1m58.710s
27. PC	    Cameron/Ende/Richard          Dempsey ORECA FLM         1m59.306s
28. PC	    Downs/Marcelli/Stirling       Merchant ORECA FLM        1m59.317s
29. PC	    Bennett/Braun/Lux             CORE ORECA FLM            1m59.376s
30. P2	    Fatien/Ihara/Johansson        Gulf Racing Lola B12      1m59.826s
31. P2	    Holzer/Moro/Shultis           Lotus Lola B12            2m01.257s
32. GTE P  Gavin/Milner/Westbrook         Corvette                  2m01.514s
33. GTE P  Hand/Muller/Summerton          BMW Team RLL              2m01.523s
34. GTE P  Bruni/Fisichella/Vilander      AF Corse Ferrari          2m02.659s
35. GTE P  Bertolini/Beretta/Cioci        AF Corse Ferrari          2m01.690s
36. GTE P  Makowiecki/Melo/Vernay         Luxury Racing Ferrari     2m01.713s
37. GTE P  Garcia/Magnussen/Taylor        Corvette                  2m02.980s
38. GTE P  Lieb/Lietz/Pilet               Felbermayr Porsche        2m02.030s
39. GTE P  Bergmeister/Holzer/Long        Flying Lizard Porsche     2m02.251s
40. GTE P  Alzen/Auberlen/Muller          BMW Team RLL              2m02.329s
41. GTE A  Farnbacher/Ehret/Jakubowski    Luxury Racing Ferrari     2m02.988s
42. GTE P  Henzler/Ragginger/Sellers      Team Falken Porsche       2m03.337s
43. GTE P  Lally/Law/Neiman               Flying Lizard Porsche     2m03.417s
44. GTE A  Ried/Roda/Ruberti              Felbermayr Porsche        2m03.512s
45. GTE P  Brown/Lazzaro/Segal            Extreme Speed Ferrari     2m03.694s
46. GTE A  Krohn/Jonsson/Rugolo           Krohn Racing Ferrari      2m03.709s
47. GTE P  Cosmo/Sharp/van Overbeek       Extreme Speed Ferrari     2m04.809s
48. GTE P  Bell/Maassen/Miller            Paul Miller Porsche       2m04.317s
49. GTE A  Bornhauser/Canal/Lamy          Larbre Corvette           2m05.056s
50. GTE P  Fernandez/Mucke/Turner         Aston Martin Vantage      2m05.273s
51. GTE A  Aguas/Kauffman/Waltrip         AF Corse Ferrari          2m05.617s
52. GTE A  Binnie/Palttala/Camathias      JWA-Avila Porsche         2m06.395s
53. GTE A  Belloc/Bourret/Gibon           Larbre Corvette           2m07.173s
54. GTC    Dumoulin/Keen/MacNeil          Alex Job Porsche          2m07.308s
55. GTC    Cisneros/Edwards/Kauffmann     NGT Motorsport Porsche    2m07.623s
56. GTC    Bunting/Di Guida/Pumpelly      TRG Porsche               2m08.180s
57. GTC    Bullitt/Cumming/Estre          JDX Racing Porsche        2m09.317s
58. GTC    Benitez Jr/Benitez Sr/Thiim    NGT Motorsport Porsche    2m09.401s
59. GTC    Sofronas/Villeneuve/Welch      GMC Porsche               2m09.461s
60. GTC    Bell/Sweedler/von Moltke       Alex Job porsche          2m09.463s
61. GTC    Bleekemolen/Faulkner/LeSaffre  Green Hornet Porsche      2m09.507s
62. GTC    Avenatti/Faieta/Wagner         Competition Porsche       2m10.852s
63. P2	   Giroix/Jousse/Charouz          Gulf Racing Lola B12      2m14.823s
64. P2	   Dalziel/Potolicchio/Sarrazin   Starworks HPD             2m38.752s