Rigon to have surgery on leg
| | |
| --- | --- |
| By Matt Beer | Sunday, May 8th 2011, 13:39 GMT |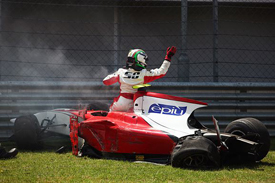 Coloni driver Davide Rigon will undergo surgery tomorrow in Istanbul after being diagnosed with multiple fractures to his tibia and fibula following his crash in the GP2 sprint race this morning.
Rigon hit the barriers on the pit straight in a clash with Trident's Julian Leal, and though he initially managed to get himself out of the car unaided, he soon realised the extent of his injury and waited for medical assistance.
The Ferrari development driver was assessed by the Formula 1 team's doctor as well as the circuit medics.
Coloni boss Paolo Coloni said: "We are quite shocked because Davide is very popular with everyone in the team, and he is a very experienced driver. He had the Ferrari doctor with him immediately, and the damage is quite serious.
"He is already booked in for surgery tomorrow morning, and we are all concentrating on that and hoping for good success. All of our thoughts are with Davide, and hopefully we will get some good news soon."