Bianchi fastest as Yas Marina test ends
| | |
| --- | --- |
| By Steven English | Monday, February 7th 2011, 21:48 GMT |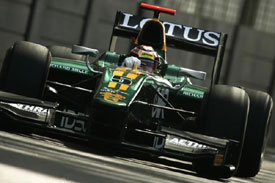 Jules Bianchi set the fastest time of the final day of GP2 testing in Abu Dhabi ahead of the Asia Series opener later this week.
The ART driver lapped the Yas Marina circuit just under a second quicker than AirAsia's Davide Valsecchi, with the Italian later topping the afternoon session.
iSport pairing Sam Bird and Marcus Ericsson were third and fourth fastest in the morning, ahead of ART's Esteban Gutierrez and Arden's Josef Kral.
Luiz Razia made it an AirAsia one-two in the afternoon, with Bird taking third again following a red flag stoppage for a collision between Romain Grosjean and Valsecchi.
Ericsson repeated his morning's fourth place, with Charles Pic (Addax) and Rodolfo Gonzalez (Trident) completed the top six.
The GP2 Asia season begins on Thursday in Abu Dhabi.
Session one:

Pos  Driver               Team                Time       Gap       Laps
 1.  Jules Bianchi        ART                 1m35.940s            34
 2.  Davide Valsecchi     AirAsia             1m36.025s  + 0.085s  37
 3.  Sam Bird             iSport              1m36.154s  + 0.214s  30
 4.  Marcus Ericsson      iSport              1m36.175s  + 0.235s  26
 5.  Esteban Gutierrez    ART                 1m36.366s  + 0.426s  30
 6.  Josef Kral           Arden               1m36.403s  + 0.463s  32
 7.  Max Chilton          Carlin              1m36.413s  + 0.473s  24
 8.  Dani Clos            Racing Engineering  1m36.430s  + 0.490s  23
 9.  Charles Pic          Addax               1m36.491s  + 0.551s  37
10.  Andrea Caldarelli    Ocean               1m36.609s  + 0.669s  31
11.  Giedo van der Garde  Addax               1m36.613s  + 0.673s  26
12.  Luiz Razia           AirAsia             1m36.739s  + 0.799s  27
13.  Jolyon Palmer        Arden               1m36.751s  + 0.811s  44
14.  Rodolfo Gonzalez     Trident             1m36.771s  + 0.831s  26
15.  Stefano Coletti      Trident             1m36.832s  + 0.892s  25
16.  Michael Herck        Coloni              1m36.835s  + 0.895s  19
17.  Fairuz Fauzy         Super Nova          1m36.914s  + 0.974s  28
18.  Romain Grosjean      DAMS                1m36.983s  + 1.043s  28
19.  Fabio Leimer         Rapax               1m37.009s  + 1.069s  38
20.  Julian Leal          Rapax               1m37.055s  + 1.115s  35
21.  Mikhail Aleshin      Carlin              1m37.082s  + 1.142s  14
22.  Oliver Turvey        Ocean               1m37.244s  + 1.304s  24
23.  James Jakes          Coloni              1m37.326s  + 1.386s  32
24.  Johnny Cecotto       Super Nova          1m37.415s  + 1.475s  20
25.  Nathanael Berthon    Racing Engineering  1m37.521s  + 1.581s  22
26.  Pal Varhaug          DAMS                1m37.540s  + 1.600s  32

Session two:

Pos  Driver               Team                Time       Gap       Laps
 1.  Davide Valsecchi     AirAsia             1m36.159s            21
 2.  Luiz Razia           AirAsia             1m36.172s  + 0.013s  31
 3.  Sam Bird             iSport              1m36.277s  + 0.118s  31
 4.  Marcus Ericsson      iSport              1m36.464s  + 0.305s  26
 5.  Charles Pic          Addax               1m36.493s  + 0.334s  20
 6.  Rodolfo Gonzalez     Trident             1m36.527s  + 0.368s  26
 7.  Josef Kral           Arden               1m36.541s  + 0.382s  35
 8.  Max Chilton          Carlin              1m36.568s  + 0.409s  37
 9.  Stefano Coletti      Trident             1m36.575s  + 0.416s  24
10.  Dani Clos            Racing Engineering  1m36.619s  + 0.460s  38
11.  Fabio Leimer         Rapax               1m36.670s  + 0.511s  22
12.  Julian Leal          Rapax               1m36.700s  + 0.541s  25
13.  Michael Herck        Coloni              1m36.716s  + 0.557s  28
14.  Johnny Cecotto       Super Nova          1m36.721s  + 0.562s  32
15.  Andrea Caldarelli    Ocean               1m36.727s  + 0.568s  35
16.  Fairuz Fauzy         Super Nova          1m36.845s  + 0.686s  24
17.  Giedo van der Garde  Addax               1m36.918s  + 0.759s  16
18.  Mikhail Aleshin      Carlin              1m37.054s  + 0.895s  24
19.  Oliver Turvey        Ocean               1m37.201s  + 1.042s  29
20.  Romain Grosjean      DAMS                1m37.219s  + 1.060s  20
21.  Pal Varhaug          DAMS                1m37.311s  + 1.152s  35
22.  Jolyon Palmer        Arden               1m37.554s  + 1.395s  30
23.  James Jakes          Coloni              1m37.632s  + 1.473s  14
24.  Esteban Gutierrez    ART                 1m38.548s  + 2.389s  42
25.  Nathanael Berthon    Racing Engineering  1m38.683s  + 2.524s  24
26.  Jules Bianchi        ART                 1m38.707s  + 2.548s  34