Maldonado secures title, Vietoris wins
| | |
| --- | --- |
| By Mark Glendenning | Sunday, September 12th 2010, 09:28 GMT |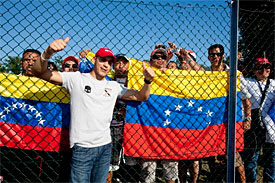 Christian Vietoris has taken a hard-fought win in today's GP2 Series sprint race at Monza, while Pastor Maldonado managed to secure the championship despite completing less than two laps.
Vietoris' victory owed much to an extraordinary start from the third row to lead into the first corner, but from there the Racing Engineering driver had to withstand race-long pressure from DAMS' Jerome d'Ambrosio.
His life was made marginally easier when ART's Sam Bird joined the fight, and indeed it was d'Ambrosio's concerns about keeping Bird from taking second on the last lap that allowed Vietoris to cross the line with a lead of 1.0s. It was the largest his margin had been all race, with the top three having been covered by as little as 0.7s at the height of their battle.
Maldonado's exit was triggered by Sergio Perez going wide at Parabolica on the second lap, creating a concertina that Maldonado swerved to avoid, only to end up skating across the gravel and into the barriers instead.
But the only way he could have lost the title today was if rival Sergio Perez had won and set fastest lap, and with the Mexican mired down at the rear of the field for the entire race, Maldonado's claim to the crown was secure.
Jules Bianchi finished fourth ahead of Max Chilton, who did well in the race of extended pressure from iSport's Oliver Turvey. Chilton's fellow front-row starter, Edoardo Piscopo, retired midway through the race after being hit by Davide Valsecchi.
Results to follow