Bianchi continues winning streak
| | |
| --- | --- |
| By Glenn Freeman | Saturday, August 15th 2009, 10:27 GMT |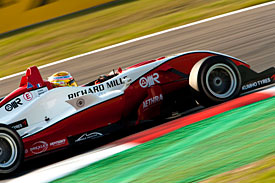 Jules Bianchi took his fifth consecutive Saturday race victory in the F3 Euro Series with another dominant performance at the Nurburgring, as ART took a 1-2-3 finish.

The championship leader fended off the attentions of fast-starting team-mate Valtteri Bottas into the first corner, and after that he set about opening up a huge lead.

While Bottas concentrated on the queue of cars that formed behind him in the early stages, Bianchi raced away into the distance, and went on to win by more than 13 seconds.

Despite struggling to break away from the chasing pack early on, Bottas eventually earned himself some breathing space ahead of the third ART car of Esteban Gutierrez, who he had jumped ahead of at the start.

The Mexican dropped back from his team-mate as he came under pressure from Sam Bird, although by the end of the race he had closed back up.

Bird had very few opportunities to make a move for the final podium spot, as Gutierrez's only error came at the exit of the final chicane, which didn't offer much of a chance to the British driver.

Despite their scrap, the third and fourth placed drivers were able to break away from the rest of the field, which was headed by Mika Maki in fifth place.

The Finn led home Signature team-mate Jean Karl Vernay, while behind them Alexander Sims fended off early pressure from his Mucke team-mate Christian Vietoris to take seventh.

Vietoris had made a poor start from eighth on the grid, but a daring move around the outside of several cars at Turn 3 on the opening lap got him back into the points. He then attacked Sims a couple of times, before falling back into the clutches of Stefano Coletti in the closing stages.

Pos Driver                    Team           Car         Time/Gap
 1.  Jules Bianchi            ART            D/M       31m01.013s
 2.  Valtteri Bottas          ART            D/M         +13.722s
 3.  Esteban Gutierrez        ART            D/M         +14.693s
 4.  Sam Bird                 Mucke          D/M         +15.638s
 5.  Mika Maki                Signature      D/V         +19.456s
 6.  Jean-Karl Vernay         Signature      D/V         +20.138s
 7.  Alexander Sims           Mucke          D/M         +20.422s
 8.  Christian Vietoris       Mucke          D/M         +21.756s
 9.  Stefano Coletti          Prema          D/M         +22.475s
10.  Henkie Waldschmidt       SG             D/M         +26.781s
11.  Atte Mustonen            Motopark       D/M         +29.577s
12.  Cesar Ramos              Manor          D/M         +30.995s
13.  Marco Wittmann           Mucke          D/M         +35.383s
14.  Tiago Geronimi           Signature      D/V         +46.674s
15.  Christopeher Zanella     Motopark       D/M         +46.958s
16.  Jake Rosenzweig          Carlin         D/V         +50.199s
17.  Johnny Cecotto Jr        HBR            D/M         +53.498s
18.  Roberto Merhi            Manor          D/M         +53.694s
19.  Nick Tandy               Kolles         D/V         +56.761s
20.  Johan Jokinen            Kolles         D/V         +57.627s
21.  Basil Shaaban            Prema          D/M       +1m00.280s
22.  Tom Dillmann             HBR            D/M       +1m02.031s
23.  Brendon Hartley          Carlin         D/V       +1m02.938s
24.  Pedro Enrique            Manor          D/M       +1m19.035s
25.  Andrea Caldarelli        SG             D/M           +1 lap