Valsecchi takes first GP2 victory
| | |
| --- | --- |
| By Charles Bradley | Sunday, September 14th 2008, 09:50 GMT |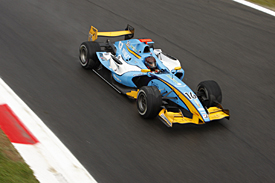 After a year that has included two big shunts that put him in hospital, Davide Valsecchi scored an emotional maiden GP2 victory on home soil for Durango at Monza in the sprint race.
Starting from reverse grid pole, Valsecchi suffered huge wheelspin on the treacherously wet surface, which meant everybody started on wets.
From row two, Roldan Rodriguez made the best start, and rocketed through into the lead by the first corner, followed by Jerome d'Ambrosio.
D'Ambrosio went straight on at the first chicane, however, and Valsecchi passed him by the conclusion of the opening lap to run second. The Belgian would then lose further places to Romain Grosjean, Bruno Senna and Mike Conway in the early going.
Senna spun at Roggia, overtaking two cars backwards but continuing in fourth. That lasted only until the same corner next lap, when Lucas di Grassi slammed into the back of Conway, and Senna spun again - this time in avoidance.
At the front, Rodriguez had pulled out a 2.6-second lead, but Valsecchi began to reel him in as the track dried out slightly. He took the lead at the first chicane on lap nine, and pulled away to a nine-second victory.
Grosjean also got around Rodriguez, but lost the place almost immediately. Rodriguez then held on to finish an excellent second for FMS - by far their best result of the year - 0.5 seconds ahead of Grosjean, who was 0.6 seconds ahead of a charging Pastor Maldonado at the finish.
Newly-crowned champion Giorgio Pantano finished fifth, having dropped to 17th on the opening lap after a terrible start and a cautious first corner. D'Ambrosio clung to the final point in sixth but had to hold off Sebastien Buemi and a recovering Senna to do so.
Pantano celebrated his title by stopping at the first chicane to throw his gloves into the crowd and then getting back in his car to perform a series of doughnuts at the Roggia. Combined with Valsecchi and Durango's win, it capped a great day for Italy in GP2.
Classified

Pos  Driver             Team                Time
 1.  Davide Valsecchi   Durango             38:09.871
 2.  Roldan Rodriguez   FMS                  +  9.004
 3.  Romain Grosjean    ART                  +  9.537
 4.  Pastor Maldonado   Piquet Sports        + 10.190
 5.  Giorgio Pantano    Racing Engineering   + 11.428
 6.  Jerome D'Ambrosio  DAMS                 + 16.731
 7.  Sebastien Buemi    Arden                + 17.675
 8.  Bruno Senna        iSport               + 18.540
 9.  Ho-Pin Tung        Trident              + 32.030
10.  Andreas Zuber      Piquet Sports        + 33.641
11.  Lucas Di Grassi    Campos               + 42.236
12.  Alvaro Parente     Super Nova           + 46.434
13.  Kamui Kobayashi    DAMS                 + 46.836
14.  Carlos Iaconelli   BCN Competicion      + 51.080
15.  Alberto Valerio    Durango              + 51.743
16.  Diego Nunes        DPR                  + 52.565
17.  Michael Herck      DPR                  + 55.792
18.  Andy Soucek        Super Nova           + 56.456

Retirements:

     Driver             Team                Laps
     Sakon Yamamoto     ART                 14
     Luca Filippi       Arden               12
     Marko Asmer        FMS                 8
     Vitali Petrov      Campos              6
     Mike Conway        Trident             3
     Karun Chandhok     iSport              0