Indianapolis 500 testing: Andretti's Munoz puts Honda on top
| | |
| --- | --- |
| By Mark Glendenning | Thursday, May 14th 2015, 06:31 GMT |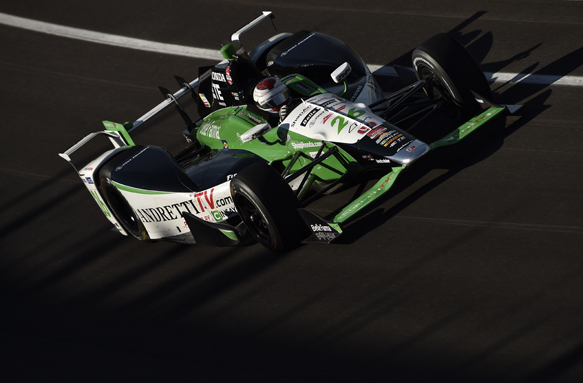 Carlos Munoz took Honda to the top of the timesheets for the first time in the Month of May by going fastest in the fourth day of practice for next weekend's Indianapolis 500.

The Andretti driver reeled off his 230.121mph lap six minutes before the chequered flag.
It marked the first time this year that the cars have topped 230mph; a benchmark that was not achieved last year until Fast Friday, when the boost levels are increased from 130 kPa to 140 kPa.

"Really, we were not looking for a tow, we just made a change and said, 'OK let's go in the group and see if we can just cop a tow and feel the car in traffic a little bit'," Munoz said.

"I went back to the pack and it's practice, so whoever gets the best tow is the one who is going to finish first.
"The positive thing is that I feel really comfortable with the car, the car feels OK. In traffic and by my own, I feel fast.
"We have to continue working, we have still two days of testing so we have to try some stuff."

Townsend Bell was second-fastest ahead of 2013 Indy 500 winner Tony Kanaan, James Davison and Sage Karam.

The day was punctuated by two major accidents, the first of which saw Helio Castroneves's Penske car launched into the air after it spun and hit the wall backwards at Turn 1.
Pippa Mann suffered two heavy impacts when she spun into the SAFER barrier at pit entry and then rebounded into the attenuator before spinning back across the track and into the outside wall.
Both drivers were checked by medical personnel and cleared.

"The guys in front of me in the big pack checked up and I saw them check up," Mann said.

"I got on the brakes, but unfortunately I just got in the grey and made a mistake. When you're not in a race car week in and week out, sometimes you make mistakes.

"We were having a good day and we had a good race car. I'm really sorry that the guys have to go and fix it.
"The joke inside [the medical centre] was I got away with a couple of bruises, but I think my crew chief will have a few more for me when I get back to the garage after that one."
INDY 500 PRACTICE RESULTS:
| Pos | Driver | Team | Car | Gap | Laps |
| --- | --- | --- | --- | --- | --- |
| 1 | Carlos Munoz | Andretti Autosport | Dallara/Honda | 39.1098s | 88 |
| 2 | Townsend Bell | Dreyer and Reinbold | Dallara/Chevrolet | 0.1968s | 57 |
| 3 | Tony Kanaan | Chip Ganassi Racing | Dallara/Chevrolet | 0.3341s | 64 |
| 4 | James Davison | Dale Coyne Racing | Dallara/Honda | 0.3565s | 86 |
| 5 | Sage Karam | Chip Ganassi Racing | Dallara/Chevrolet | 0.3948s | 91 |
| 6 | Scott Dixon | Chip Ganassi Racing | Dallara/Chevrolet | 0.4463s | 59 |
| 7 | Simon Pagenaud | Team Penske | Dallara/Chevrolet | 0.4545s | 66 |
| 8 | Will Power | Team Penske | Dallara/Chevrolet | 0.4767s | 70 |
| 9 | Marco Andretti | Andretti Autosport | Dallara/Honda | 0.4819s | 86 |
| 10 | James Hinchcliffe | Schmidt Peterson Motorsports | Dallara/Honda | 0.4832s | 84 |
| 11 | Ryan Hunter-Reay | Andretti Autosport | Dallara/Honda | 0.5092s | 76 |
| 12 | Gabby Chaves | Bryan Herta Autosport | Dallara/Honda | 0.5214s | 83 |
| 13 | J.R. Hildebrand | CFH Racing | Dallara/Chevrolet | 0.5651s | 44 |
| 14 | Ed Carpenter | CFH Racing | Dallara/Chevrolet | 0.5950s | 52 |
| 15 | Helio Castroneves | Team Penske | Dallara/Chevrolet | 0.5955s | 12 |
| 16 | Graham Rahal | Rahal Letterman Lanigan | Dallara/Honda | 0.5971s | 80 |
| 17 | Juan Pablo Montoya | Team Penske | Dallara/Chevrolet | 0.5972s | 41 |
| 18 | Conor Daly | Schmidt Peterson Motorsports | Dallara/Honda | 0.6052s | 41 |
| 19 | Justin Wilson | Andretti Autosport | Dallara/Honda | 0.6148s | 65 |
| 20 | Charlie Kimball | Chip Ganassi Racing | Dallara/Chevrolet | 0.6341s | 93 |
| 21 | Pippa Mann | Dale Coyne Racing | Dallara/Honda | 0.6603s | 64 |
| 22 | Sebastian Saavedra | Chip Ganassi Racing | Dallara/Chevrolet | 0.6631s | 74 |
| 23 | Takuma Sato | AJ Foyt Enterprises | Dallara/Honda | 0.6879s | 92 |
| 24 | James Jakes | Schmidt Peterson Motorsports | Dallara/Honda | 0.7053s | 102 |
| 25 | Jack Hawksworth | AJ Foyt Enterprises | Dallara/Honda | 0.7128s | 88 |
| 26 | Josef Newgarden | CFH Racing | Dallara/Chevrolet | 0.7746s | 69 |
| 27 | Oriol Servia | Rahal Letterman Lanigan | Dallara/Honda | 0.8397s | 59 |
| 28 | Sebastien Bourdais | KVSH Racing | Dallara/Chevrolet | 0.9272s | 53 |
| 29 | Stefano Coletti | KV Racing Technology | Dallara/Chevrolet | 1.0041s | 40 |
| 30 | Carlos Huertas | Dale Coyne Racing | Dallara/Honda | 1.1155s | 55 |
| 31 | Bryan Clauson | KVSH Racing | Dallara/Chevrolet | 1.2768s | 97 |
| 32 | Sebastien Bourdais | KVSH Racing | Dallara/Chevrolet | 1.6869s | 5 |
| 33 | Alex Tagliani | AJ Foyt Enterprises | Dallara/Honda | 1.6968s | 10 |