Abu Dhabi GP2: Coletti wins, McLaren junior Vandoorne seals second
| | |
| --- | --- |
| | Sunday, November 23rd 2014, 11:21 GMT |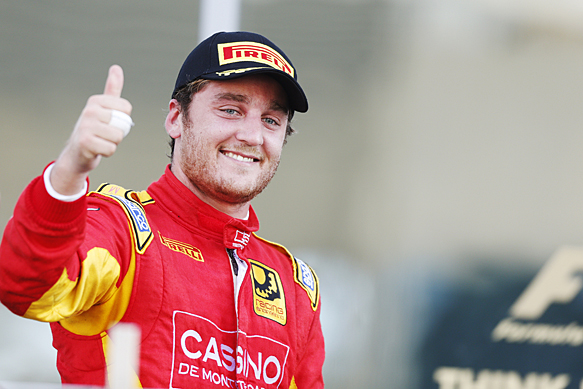 Stefano Coletti won the final GP2 race of the season in Abu Dhabi as McLaren Formula 1 junior Stoffel Vandoorne sealed second in the championship.
A quick start from Coletti drew him past poleman Arthur Pic on the outside of Turn 1, and the Monagasque maintained the position comfortably to the end.
The race's main point of interest came from the battle between Sauber F1-bound Felipe Nasr and Vandoorne to be second in the standings.
Vandoorne went into the race ahead by nine points, but Nasr looked to have the early advantage as he charged from fifth to second on the opening lap.
With the Belgian stuck in seventh for most of the race, unable to get past Mitch Evans in front, the final laps became all about who could set the fastest lap for the additional two points.
Nasr was quick and maintained second on-track with ease but Vandoorne set the fastest lap in the closing stages, and then took sixth as Johnny Cecotto fell back to secure second in the championship with 227 points to Nasr's 224.
Already-confirmed champion Palmer went out on opening lap after a spin in the braking zone of Turn 8, the Briton stalling after nearly collecting the back of Evans.
Pic finished in third ahead of Stephane Richelmi, Evans in fifth and Vandoorne in sixth. Cecotto and Ferrari F1 protege Raffaele Marciello completed the points.
Richelmi was later given a penalty for a track limits infringement, which will drop him to ninth.
RESULTS - 22 LAPS:
| Pos | Driver | Team | Gap |
| --- | --- | --- | --- |
| 1 | Stefano Coletti | Racing Engineering | 41m37.752s |
| 2 | Felipe Nasr | Carlin | 3.787s |
| 3 | Arthur Pic | Campos Racing | 5.357s |
| 4 | Mitch Evans | RT RUSSIAN TIME | 12.701s |
| 5 | Stoffel Vandoorne | ART Grand Prix | 13.764s |
| 6 | Johnny Cecotto Jr. | Trident | 18.708s |
| 7 | Raffaele Marciello | Racing Engineering | 19.217s |
| 8 | Sergio Canamasas | Trident | 24.383s |
| 9 | Stephane Richelmi | DAMS | 29.288s |
| 10 | Takuya Izawa | ART Grand Prix | 29.345s |
| 11 | Julian Leal | Carlin | 29.608s |
| 12 | Rio Haryanto | Caterham Racing | 30.191s |
| 13 | Nathanael Berthon | Venezuela GP Lazarus | 30.561s |
| 14 | Jon Lancaster | Hilmer Motorsport | 36.411s |
| 15 | Conor Daly | Venezuela GP Lazarus | 36.817s |
| 16 | Simon Trummer | Rapax | 37.962s |
| 17 | Nicholas Latifi | Hilmer Motorsport | 41.580s |
| 18 | Pierre Gasly | Caterham Racing | 42.156s |
| 19 | Artem Markelov | RT RUSSIAN TIME | 44.492s |
| 20 | Kevin Giovesi | Rapax | 46.210s |
| 21 | Marco Sorensen | MP Motorsport | 47.308s |
| 22 | Kimiya Sato | Campos Racing | 47.687s |
| 23 | Rene Binder | Arden International | 48.331s |
| 24 | Andre Negrao | Arden International | 53.145s |
| - | Daniel de Jong | MP Motorsport | Retirement |
| - | Jolyon Palmer | DAMS | Retirement |
FINAL CHAMPIONSHIP STANDINGS:
| Pos | Driver | Points |
| --- | --- | --- |
| 1 | Jolyon Palmer | 276 |
| 2 | Stoffel Vandoorne | 229 |
| 3 | Felipe Nasr | 224 |
| 4 | Mitch Evans | 174 |
| 5 | Johnny Cecotto Jr. | 140 |
| 6 | Stefano Coletti | 136 |
| 7 | Arthur Pic | 124 |
| 8 | Raffaele Marciello | 74 |
| 9 | Stephane Richelmi | 73 |
| 10 | Julian Leal | 68 |
| 11 | Marco Sorensen | 47 |
| 12 | Andre Negrao | 31 |
| 13 | Adrian Quaife-Hobbs | 30 |
| 14 | Sergio Canamasas | 29 |
| 15 | Rio Haryanto | 28 |
| 16 | Daniel Abt | 27 |
| 17 | Simon Trummer | 26 |
| 18 | Takuya Izawa | 26 |
| 19 | Tom Dillmann | 18 |
| 20 | Nathanael Berthon | 17 |
| 21 | Alexander Rossi | 12 |
| 22 | Tio Ellinas | 7 |
| 23 | Jon Lancaster | 6 |
| 24 | Artem Markelov | 6 |
| 25 | Rene Binder | 3 |
| 26 | Conor Daly | 2 |
| 27 | Kimiya Sato | 2 |
| 28 | Daniel de Jong | 2 |
| 29 | Pierre Gasly | 0 |
| 30 | Sergio Campana | 0 |
| 31 | Facu Regalia | 0 |
| 32 | Nicholas Latifi | 0 |
| 33 | Kevin Giovesi | 0 |
| 34 | Axcil Jefferies | 0 |