Ganassi distracted during 2014 IndyCar build-up says Scott Dixon
| | |
| --- | --- |
| By Mark Glendenning | Wednesday, August 27th 2014, 15:09 GMT |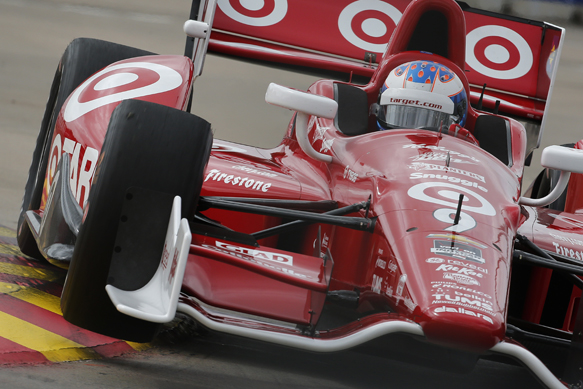 Outgoing IndyCar champion Scott Dixon believes that internal distractions over the winter played a role in his Chip Ganassi team's slow start to the 2014 IndyCar season.
Dixon has recovered from a poor start to the year to win two of the last three races, backing up his victory at Mid-Ohio with another win at Sonoma last weekend.
However, the reigning champion heads into this weekend's Fontana finale 103 points adrift of Will Power, and the New Zealander admitted that the team had not developed as fast as it needed to during the winter.
"I think we started the season a little light in development," Dixon said.
"We had a lot of other projects as a team going on with the switch in engine manufacturer, but the switch to Chevy [from Honda] was actually very smooth.
"Internally, we switched the sportscar team from BMW to Ford, which was a big deal. Especially with running Daytona and Sebring at the start of the year.
"It took a lot of effort to get that achieved, which took away a little bit from the IndyCar programme."
While Dixon believes that Ganassi had no trouble establishing a good relationship with Chevrolet, he suspects that the team was not quick enough to adapt to the needs of the new engine.
"The engine drives totally different to the Honda," he said. "I think we were maybe a little stuck in our ways in compromising the car for how the engine drives.
"We've been able to find more of a middle ground recently, which has definitely helped."
In addition to dealing with a change in technical partner, Ganassi also spent the off-season dealing with the unexpected retirement of Dario Franchitti and re-expanding to four cars after running three in 2013.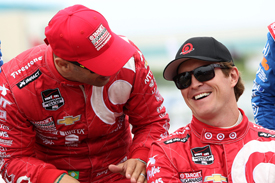 Tony Kanaan replaced Franchitti, and Ryan Briscoe was added alongside Dixon and Charlie Kimball.
Dixon did not point to any one change as a factor in the team's early struggles, but said that all of them created small complications of their own.
"[There were] a lot of changes internally with every debrief session - one truck with four drivers, as opposed to just me and Dario, then you'd meet [the other two drivers] at the end of the day," he said.
"There's been a lot of little changes. I don't think there's been one thing significant to derail anything. It's just been lots of changes.
"It was a huge change with Kanaan coming into the team, [and] to figure out what he likes.
"Dario and I had a set pattern. It's just not like that right now, but we're getting closer to it.
"I think that will be big for next year."