Cal Crutchlow says Ducati MotoGP bike too hard to adapt to
| | |
| --- | --- |
| | Wednesday, August 27th 2014, 08:53 GMT |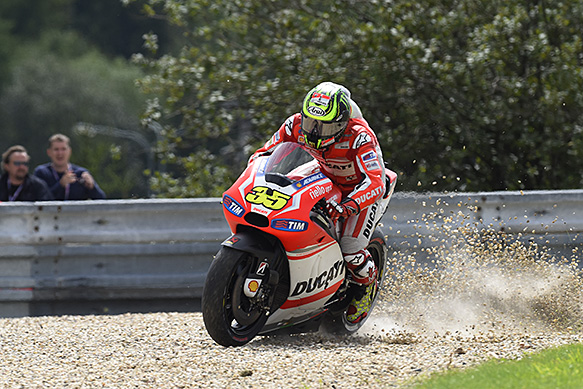 Cal Crutchlow reckons it would take any rider at least a year to get to grips with Ducati's MotoGP bike, admitting that he has 'never been so slow' as he has in 2014.
After three promising seasons with Tech 3 Yamaha, Crutchlow switched to the factory Ducati team this year but struggled to get near the podium. He has agreed to terminate his deal early to join LCR Honda for 2015.
Ducati has not won a MotoGP race since Casey Stoner's 2010 Australian Grand Prix triumph, and Stoner's team-mates during his highly-successful stint with the Italian team tended to fare much worse.
Crutchlow believes the Ducati simply requires a riding style unlike anything else in the championship, and admits that he was initially reluctant to change.
"I think if you look historically in the first years of any guy riding the Ducati it's been difficult," he said in an interview with the official MotoGP website.
"I think it just takes a year to get used to the bike. I've never really been in this situation in my career where I've been so slow or so bad.
"I spent 3 years learning to ride like Jorge [Lorenzo] and Jorge is one of the fastest guys in the championship but that was with the Yamaha and I didn't want to change and go back to a riding style that I don't believe works with every bike. I believe it works with the Ducati only.
"But in the end I felt we had to. I'm definitely changing my style a little bit now but it's difficult to get out of what you've been doing for years."
Although Crutchlow - who will be replaced in the factory Ducati line-up by current Pramac rider Andrea Iannone next year - believes his move to LCR is best for both parties, he is also sure that he would have improved at Ducati next season.
"I didn't regret coming to Ducati - they've been supportive of me 100 per cent and they have given me ample opportunity to be at the front. It's just been a difficult year for both them and for me because they've never experienced the bad luck we have had in five or six races over the year," he said.
"I believe that if I would have stayed of course I would have done a better job. I have to believe this, I'm a motorcycle racer .
"But I played that cards that were in front of me on the table to move to the LCR Honda team and I believe that at this time it was the best solution for me and for Ducati."
He hopes he can bounce back in 2015 as he did after a tough MotoGP rookie season with Tech 3 in '11.
"I remember in 2011 it was one of the worst years in my career and I remember arguing with [team boss] Herve [Poncharal] many times," said Crutchlow.
"I didn't understand why I was not fast. I believed I could come in and do a better job than what I was doing but I couldn't go any faster and I felt completely at the limit with the package.
"And then the next year I came out and made fourth at the first round in Qatar and I was the first guy behind the three factory riders . So it can change from year to year."
DUCATI TRIBULATIONS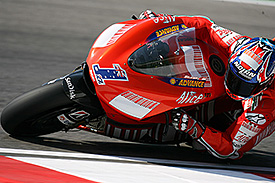 Crutchlow is far from the first rider to find the modern generation of Ducatis hard to adapt to. The list below shows the stats for all factory Ducati MotoGP riders in the 800cc/1000cc rules era from 2007 to now - with Casey Stoner a class apart.
Casey Stoner (2007-10): 101 races, one title, 23 wins, 23 poles, 42 podiums

Loris Capirossi (2007): 18 races, one win, four podiums*

Valentino Rossi (2011-12): 36 races, three podiums

Nicky Hayden (2009-13): 88 races, three podiums

Andrea Dovizioso (2013-present): 29 races, two podiums

Marco Melandri (2008): 18 races, best result of fifth

Cal Crutchlow (2014-present): 10 races, best result of sixth

Mika Kallio (2009 stand-in): Three races, best result of seventh

Michele Pirro (2014 wildcard): Five races, best result of 12th
* Capirossi also raced the 990cc era Ducati, on which he won six times
Follow MotoGP's British Grand Prix race day as it happens with AUTOSPORT Race Centre Live from 11am UK time on Sunday