Spa 24 Hours red-flagged due to accident
| | |
| --- | --- |
| By Gary Watkins | Saturday, July 26th 2014, 20:02 GMT |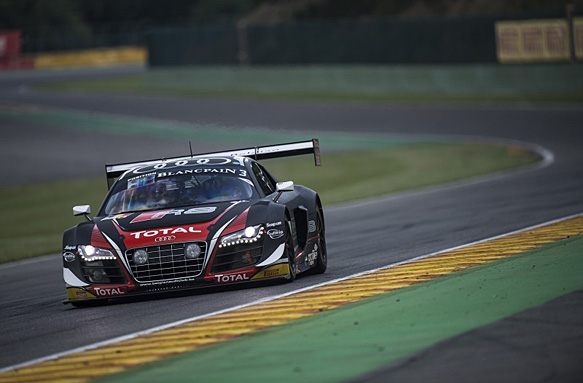 The Spa 24 Hours was red-flagged shortly before one-quarter distance with the #3 WRT Audi leading the race in the hands of Christopher Mies.
The double-points round of the Blancpain Endurance Series had been running for four laps behind the safety car, the fifth of the race, after a major accident involving two Ferrari 458 Italias.
The #111 Kessel car driven by Marcus Mahy and the #333 Rinaldi entry with Vadim Kogay at the wheel came together on the exit of Stavelot.
The race was stopped because the air ambulance was called to transport British driver Mahy to hospital.
The race organiser has issued no other statement on the driver's condition
The #1 WRT Audi R8 LMS ultra was leading the race with pole winner Laurens Vanthoor driving when the safety car was deployed, before pitting and handing the lead to its sister car.
Mies, who shares his Audi with Frank Stippler and James Nash, had been separated from the second-placed Sainteloc Audi driven by Edward Sandstrom by over two minutes because they were in different queues in the two safety-car set-up used at Spa.
Mies had just pitted when the red flags were shown, but is still listed as leading the race.
The #84 HTP Motorsport Mercedes-Benz SLS AMG with Nico Verdonck driving was third and the #1 Audi driven three-time Le Mans 24 Hours winners Andre Lotterer, Benoit Treluyer and Marcel Fassler was fourth.
Lucas Luhr was fifth in the best of the Marc VDS BMW Z4s, one place ahead of Vanthoor.
The race had been interrupted by a sequence of four safety-cars in a period of more than an hour during which no complete lap was undertaken under green-flag conditions.
The 30 laps of yellow flags began when Vyacheslav Maleev crashed heavily at Eau Rouge in his SMP/Russian Bears Ferrari 458 Italia.
Three attempts to restart the race were immediately followed by major incidents.
VonRyan McLaren driver Tim Mullen and Beechdean AMR's Andrew Howard, who were both conscious immediately after their respective accidents, were taken to local hospital as a precaution.
Both factory Bentley Continental GT3s run by the M-Sport team were in trouble early on: Antoine Leclerc lost 15 minutes to steering repairs in the opening hour after contact with another car; and the car that ran in the top 10 in Guy Smith's hands early on lost three laps with a broken brake line on two hours after Andy Meyrick hit some debris.