Kanaan confident Chip Ganassi Racing can continue IndyCar revival
| | |
| --- | --- |
| By Mark Glendenning | Wednesday, July 16th 2014, 15:40 GMT |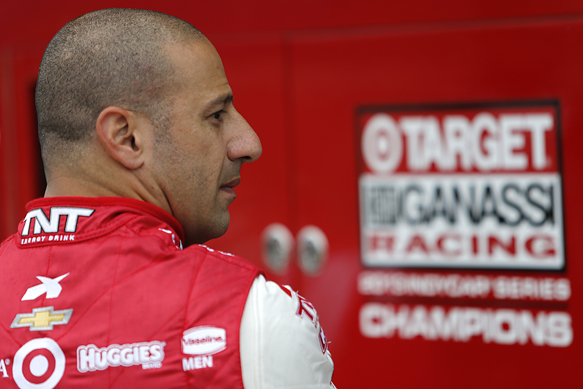 Tony Kanaan says that he now feels fully integrated with Chip Ganassi Racing and is confident that the team is on the verge of a turnaround after a disappointing start to the season.

The Brazilian's arrival at Ganassi was part of a major upheaval within the team last winter, coinciding with the unexpected retirement of Dario Franchitti, the return of Ryan Briscoe and consequent expansion to four full-time cars.

Kanaan admitted earlier this year that filling Franchitti's seat would be a challenge, not only in terms of his on-track results but also the Scotman's strong working relationship with Scott Dixon.

While the team's lead duo has yet to recapture its past form - Dixon and Kanaan have just three third places between them so far this season - those results are offset by two near-misses for Kanaan in as many weeks.

At Pocono he was running in the vicinity of eventual winner Juan Pablo Montoya before his team took a gamble on strategy that didn't pan out, while at Iowa last weekend he led 247 of 300 laps, only to be relegated to third at the very end when Ryan Hunter-Reay and Josef Newgarden capitalised on a late yellow.

"It always takes a little bit of time to get a bunch of guys to synchronise and work together with a big change like it was," Kanaan admitted.
"The driver is definitely the most important piece that holds the whole team together.
"I feel comfortable [at Ganassi] now and they feel comfortable with me. I think I gained their trust and I think I proved we can win races.
"We're making big progress. I hope I can give Chip his first win of the year so far because it hasn't been as good a year as we thought it was going to be."
While Kanaan's disappointment at a narrow loss at Iowa was evident after the race, he says that he is optimistic that having been in a potentially race-winning position proves that the team is moving in the right direction ahead of this weekend's Toronto double-header.
"I always try to look at the positives," Kanaan said.
"It's not going to do me any good to dwell on the strategy. We dominated the last two races. For one reason or the other, we didn't win. But to win a race, you got to be up front. That's what we've been doing.
"I'm not going to say I'm extremely happy about [losing], but I am extremely satisfied with the way we're doing things in the team. A win is around the corner, for sure.
"We're going to Toronto, where Dixon dominated last year. We have high hopes there, [we're] trying to finish the season on a high note."