Williams F1 team surprised by its speed in the British Grand Prix
| | |
| --- | --- |
| By Ben Anderson | Monday, July 7th 2014, 15:54 GMT |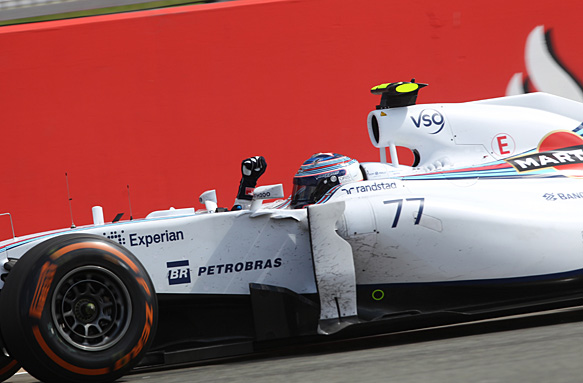 The Williams Formula 1 team was taken aback by how competitive its car was in the British Grand Prix, according to its head of vehicle performance Rob Smedley.
The Grove-based team bounced back from a terrible qualifying session - where drivers Valtteri Bottas and Felipe Massa failed to escape Q1 - to finish second with Bottas at Silverstone.
Bottas passed five cars on the opening lap of the British GP and was up to third from 14th on the grid inside 20 laps, and Smedley conceded Williams was slightly surprised to be so competitive around the high-speed sweeps of Silverstone.
"Possibly a little surprised," he said when asked by AUTOSPORT about the performance. "I don't think massively surprised.
"We knew we had a quick car, which made qualifying all the more disappointing.
"We knew we were going into the race with a good car [because of] where we'd been in the last few grands prix.
"Whether we would be as strong as we were in Canada and Austria, where we clearly had the second quickest car, was a little bit of a question mark.
"There are not many low-speed corners at Silverstone, so we knew the car would be good. We just didn't realise how good."
'EXCEPTIONAL' EFFORT BY BOTTAS
Smedley also praised the work done by Bottas in passing 11 cars on-track to get himself into podium contention in the early part of the race.
"Valterri did an exceptional job," Smedley added.
"The communication between him and the pitwall was exceptional; you need that level of synergy between driver and pit and here it came off as well as it could do really.
"[But] we can't underestimate how much the [Mercedes] power unit has played in the result, because Valtteri was able to overtake cars, get past them very quickly and use the car's pace.
"If we weren't able to do that then the race would've had a completely different complexion."