Safety failings blamed for Canadian GP marshal death
| | |
| --- | --- |
| By Edd Straw | Thursday, November 7th 2013, 15:29 GMT |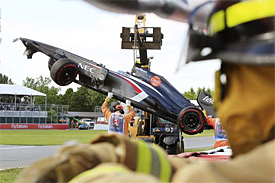 Canadian Grand Prix organisers have been held responsible for several key safety failures that led to the death of marshal Mark Robinson after the finish of this year's race.
Robinson died after tripping and falling under the wheels of a mobile crane while the Sauber of Esteban Gutierrez was being recovered immediately after the finish of the race.
Quebec's commission for the health and safety of workers (CSST), conducted a lengthy investigation into the death of the 38-year-old, concluding that a series of safety errors were responsible for what happened.
The crane was found to be moving too quickly at 11km/h, roughly equivalent to jogging pace, while the car was also suspended too high off the ground at up to two metres.
There should also have been nobody in close proximity to the crane while it was moving, whereas Robinson and a colleague were in front of the forklift in order to stabilise the Sauber through tethers attached to its rear corners.
The means of stabilising the Sauber while it was being transported was found to be at fault and those recovering the car had not been correctly trained to do so.
Canadian GP organisers have agreed to implement the safety recommendations suggested in the report.
As well as the recommendations in the report, this could also extend to preventing spectators from coming onto the track immediately after the end of the race.
This is because haste in moving the Sauber was deemed to be partly motivated by a commitment enshrined in the race-hosting agreement to take all necessary measures to ensure abandoned cars are returned to the pits and kept out of reach of spectators.
Prior to the publication of the CSST report, the use of such mobile cranes to transport cars at the circuit had already been banned as a result of the accident.
"We did that operation probably 100 times over the years, going to get a car on track with safety and nothing happened," said Canadian GP promoter Francois Dumontier on Montreal's CTV News.
A fine, the amount of which has yet to be finalised, will also be levied against the organisers of up to £36,643.