Pat Symonds replaces Mike Coughlan at Williams Formula 1 team
| | |
| --- | --- |
| By Edd Straw | Tuesday, July 16th 2013, 08:32 GMT |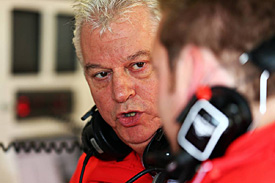 Pat Symonds will join Williams next month in place of technical director Mike Coughlan, who has left the team with immediate effect.
Symonds, who has worked as a technical consultant for the Marussia team since 2011, will take up the role of chief technical officer on August 19.
AUTOSPORT understands that the change has been made as a result of the team's struggles this year, with Coughlan stepping aside as part of a move to strengthen the squad technically after failing to score a point so far this season.
"I'm delighted that Pat is joining the team," said team principal Frank Williams.
"His technical capabilities and sporting successes speak for themselves and I'm sure that his knowledge and leadership will contribute considerably to the success that all of us at Williams are working hard to achieve."
Symonds, who has left the Marussia team to take up this role, is confident that the team has everything it needs to return to its historical heights.
"Williams is a team steeped in success and engineering excellence and I'm honoured to be asked to play a role in returning the team to its rightful place at the pinnacle of F1.
"Sir Frank, Mike and Claire have put in place the foundations for success and I'm immensely excited to begin this new challenge."
Group chief executive officer Mike O'Driscoll stressed that the move was motivated by the team's commitment to returning to winning regularly.
He paid tribute to Symonds' skills, which he believes will play a key role in doing this.
"Williams's sporting and engineering heritage dictates that we secure the finest talent available.
"Pat brings unrivalled technical and managerial skills in addition to a proven ability to deliver on track results.
"Our commitment to return Williams to winning ways is absolute and this appointment is yet more evidence of our collective desire to return the team to the position is deserves."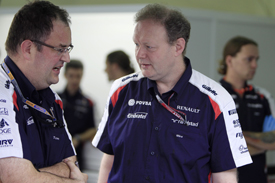 Coughlan played a key role in the squad's strong 2012 season, with Pastor Maldonado ending a victory drought stretching back to the end of 2004 with a win in Spain last year.
Williams has thanked him for his contribution since joining in 2011 after a major technical restructure in the wake of Sam Michael's departure as technical director.
"The team thanks him for the significant contribution he has made since 2011 and wishes him well in his future endeavours," said a Williams statement.
PAT SYMONDS IN F1
1981-1985: THE TOLEMAN YEARS
Symonds was recruited by Toleman at the start of 1981 ahead of its graduation to Formula 1. He played an increasingly important role for the squad, almost winning the Monaco GP as race engineer to Ayrton Senna in 1984 and claiming a pole position in Germany with Teo Fabi a year later.
1986-1991: BENETTON'S EMERGING YEARS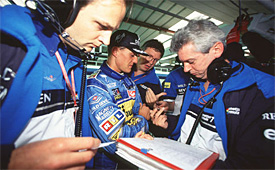 With the team renamed Benetton, Symonds acted as race engineer for several big-name drivers before switching to the Reynard F1 programme, which never came to fruition.
1991-1995: THE SCHUMACHER YEARS
Symonds returned to Benetton and acted as Michael Schumacher's race engineer, along with other senior engineering management responsibilities. During this period, the team won two drivers' and a constructors' championship.
1996-2002: THE WILDERNESS YEARS
Benetton struggled to recapture past glories during this period. Symonds was appointed technical director in November '96 in the wake of Ross Brawn's move to Ferrari. During these seven seasons, the team won only once, with Gerhard Berger at Hockenheim in '97. In 2001, Benetton was renamed Renault.
2003-2007: THE ALONSO YEARS, PART 1
Symonds, who became engineering director in F1, was instrumental in the team's revival. Fernando Alonso was promoted from test to race driver in 2003, winning in Hungary. In 2005/2006, Alonso and the team claimed both the drivers' and the constructors' championships. The loss of Alonso, as well as the switch to Bridgestone tyres, led to a win-less 2007 campaign.
2008-2009: THE ALONSO YEARS, PART 2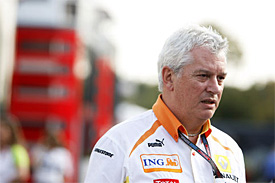 After a year at McLaren, Alonso returned in 2008 and won two races before the team again slumped in 2009. That season, it emerged that Nelson Piquet Jr had deliberately crashed in Singapore a year earlier to facilitate Alonso's victory. As a consequence, Symonds and team principal Flavio Briatore were banned from F1.
2011-2013: THE MARUSSIA YEARS
After spending two seasons out of F1, Symonds returned in 2011 as a technical consultant to Marussia, leading to an upturn in the squad's fortunes. This year, as de facto technical director, he started to attend races again. He will join Williams as chief technical officer next month.