Nico Rosberg: Mercedes becoming favourite for Formula 1 success
| | |
| --- | --- |
| By Matt Beer | Wednesday, July 3rd 2013, 12:27 GMT |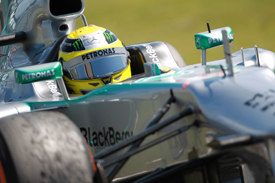 Nico Rosberg believes Mercedes is now going into grand prix weekends as the favourite for success.
The team is up to second in the Formula 1 constructors' championship, has taken pole for five of the eight races so far in 2013, and claimed two victories - only one less than Red Bull and equal to Ferrari.
"Slowly but surely we are dropping into the role of being favourites, which is fantastic," said Rosberg.
He believes Mercedes is now reaping the benefit of all it learned during its disappointing 2010-12 seasons, when it could not keep up with the frontrunners over the course of a campaign.
"We've had three years where it's been difficult, and we learned a lot," Rosberg said.

Mark Hughes' GP report: Rosberg takes British GP victory
"Now things are coming together. We built up the team with more employees, working together better. A lot of fantastic people have joined the team to complement the fantastic people that we already had.
"They managed to build a great car over the winter. Then in the development race this season, which was our big weakness last year, it seems to be going pretty well at the moment - which is another sign of the team building and having learned from our issues in past years.
"We have fantastic momentum in the team at the moment. It's great to be a part of it."

Could tyre cloud have a Silver (Arrows) lining?
Rosberg does not think the forthcoming changes to F1's tyre specification will destabilise Mercedes either.
"It doesn't really matter which tyres we use," he said. "In general I think we have a very quick car so I think we can stay where we are."
HAMILTON PESSIMISTIC
But his team-mate Lewis Hamilton believes Mercedes still cannot claim to be a genuine match for Red Bull, despite his race-leading pace before his tyre failure at Silverstone.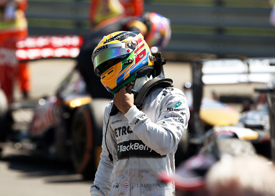 "I don't think we're favourites," said Hamilton.
"Red Bull is still favourite. They're leading the championship.
"We are improving and getting closer.
Mercedes motorsport boss Toto Wolff warned that there would still be some events where the team expected to slip back.
"On some occasions we're showing that the car has improved a lot and with the two best drivers in these cars we are able to not only compete for pole positions but also for race wins," Wolff said.
"There will be other tracks where, because of track temperatures and ambient temperatures, we're going to struggle a bit more, same as any other car."