Monaco GP: Max Chilton apologises for causing Pastor Maldonado crash
| | |
| --- | --- |
| By Edd Straw | Sunday, May 26th 2013, 18:14 GMT |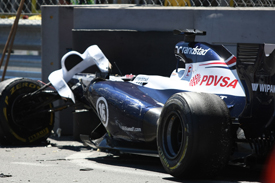 Max Chilton has apologised to Pastor Maldonado for his part in the collision that led to the Williams driver crashing heavily during the Monaco Grand Prix.
Maldonado's car plunged headfirst into the barrier at Tabac, registering an impact believed to be of around 9g, after Chilton drifted into the Williams on the approach to the corner.
This led to the Venezuelan describing Chilton's driving as "dangerous".
Chilton said he believed he was driving in a straight line, but accepted the decision of the stewards to blame him for the incident and give him a drive-through penalty.
"I've been to see Pastor because I wanted to see that he was OK and he was really nice about it," said Chilton when asked by AUTOSPORT about the incident.
"He said I was coming across on him and I did say if I did, I'm sorry, it wasn't intentional.
"The stewards thought it was my fault and when you are in the car you can't see as much as you can with a camera view.
"That was the incident, we've got to apologise and move on."
Chilton explained that he was slow on the run from the chicane to Tabac after having to cut the corner to avoid the Sauber of Esteban Gutierrez.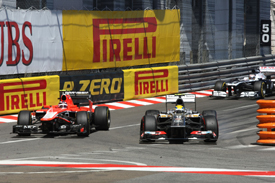 "The incident started when Esteban did a lunge into the chicane," said Chilton.
"If you turn in, it's going to end badly and he was locked up so the best thing to do was to let him go round the corner and then join in behind him.
"I knew there was other cars near and I could see another car to the right and behind, with probably a 10 metre gap [to it] so I stayed in the middle of the road.
"Turn 12 comes up pretty fast so I was fixated on that apex."
Chilton, who finished a career-best 14th in the race, was pleased with his performance despite the incident.
"That was the best race of the year, we had good pace all race compared to the cars around us," said Chilton.