Mercedes angry at criticism of its Formula 1 tyre test with Pirelli
| | |
| --- | --- |
| By Jonathan Noble and Matt Beer | Sunday, May 26th 2013, 17:28 GMT |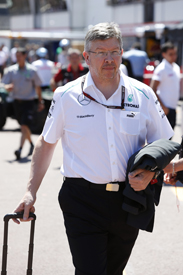 Mercedes team boss Ross Brawn has insisted that there was no way his squad could have benefited from the private test it carried out for Pirelli after the Spanish Grand Prix.
Rivals Ferrari and Red Bull lodged an official protest when it emerged in Monaco that Mercedes had carried out 1000 kilometres of running with Pirelli at Barcelona last week.
The issue is being discussed with the stewards in a hearing in Monte Carlo.
Brawn remained adamant that the test's focus was on 2014 developments and safety changes relating to recent delaminations, and that none of the running would have helped Mercedes' tyre understanding.
"The test was exactly what Pirelli wanted, they stipulated what we were doing," he said.
"We know they have a new tyre for Canada, but we don't know which of the tyres they tested was the tyre that they are bringing along to Canada. The tyres they tested were anonymous. It is not possible for us to know, because the tyres just had codes on - tyre Code A, tyre Code B."
He also argued that there was nothing secret about the test session.
"It wasn't a secret test. I am not sure where it comes from because it was a Pirelli test," said Brawn.
"It was up to Pirelli to spread the information. It wasn't up to us, it was their test.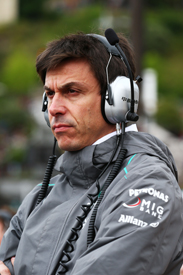 "Pirelli has been asking teams to help them out for 12 months and people haven't been supporting them, so there are lots of communications between Pirelli and teams asking them to do 1000km for them.
"We obviously had an issue in Bahrain with Lewis [Hamilton] which we were quite anxious about - and we made the effort to help them. Nobody else seems to have done that."
Mercedes motorsport boss Toto Wolff underlined that the team made no attempt to hide what it was doing after the Barcelona race.
"Nothing was in secret," he said. "We left everything there, the garage, the buses, the trucks, all the engineering offices, nothing was secret.
"We didn't trick them. Should we have? Everybody speaks about everything these days and there was nothing kept in secret."