Silverstone British F3: Antonio Giovinazzi claims maiden win
| | |
| --- | --- |
| By Marcus Simmons | Sunday, May 26th 2013, 11:58 GMT |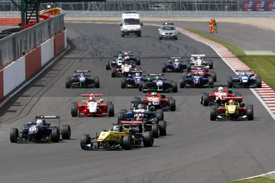 Antonio Giovinazzi claimed victory in the second race of the British Formula 3 International Series opener at Silverstone.
From third on the reversed grid, the Italian swept around the outside of front-row men Sun Zheng and Ed Jones into Copse Corner and led all the way in his Double R Racing Dallara-Mercedes.
Team-mate Sean Gelael ran second early on, until race-one winner Will Buller passed him at Stowe Corner on the sixth lap of 16.
The gap to Giovinazzi was three seconds but, with the leader running two new tyres on his car in this race, the chasing Fortec Motorsport Dallara-Mercedes was unable to close the gap until the final three laps, although Buller did claim fastest lap.
"My start was good and I got a gap," said Giovinazzi. "The car was perfect the first 10 laps, so I tried to build a lead while it felt good, and then the last five laps I was just looking after the tyres."
It was Double R's first win since Valtteri Bottas triumphed at Donington Park in 2011.
Gelael compounded the Woking team's joy by completing the podium, but was being closed upon towards the end by Fortec runner Felix Serralles.
Serralles, in turn, had looked to be coming under pressure from Nicholas Latifi, but the Canadian then had to switch his attentions to fending off the sister Carlin Dallara-Volkswagen of Jordan King for fifth.
The third Double R car of Tatiana Calderon was fourth for a while, but the Colombian fell behind Serralles, Latifi and King to take seventh.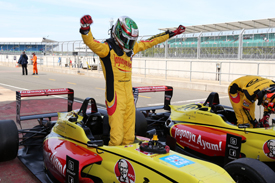 Behind her, Felipe Guimaraes looked to be struggling for pace, but put in a staunch defence from first-race winner John Bryant-Meisner, whose German F3 Cup car is today running with 15kg extra ballast.
Jann Mardenborough also got involved from time to time before claiming 10th.
Jones made sure to keep himself out of trouble with the International Class runners, and by the time everything had shuffled out he had a comfortable National Class lead in his West-Tec Dallara-Toyota.
Team-mates Roberto la Rocca and Cameron Twynham completed the class podium, the Brit passing Liam Venter.
Zheng fell to the tail of the field with an incident on the third lap.
Results - 16 laps:

Pos  Cl     Driver              Team/Car                    Time/Gap
 1.  Int    Antonio Giovinazzi  Double R Dallara-Merc     31m18.678s
 2.  Int    Will Buller         Fortec Dallara-Merc         + 1.579s
 3.  Int    Sean Gelael         Double R Dallara-Merc       + 5.112s
 4.  Int    Felix Serralles     Fortec Dallara-Merc         + 6.268s
 5.  Int    Nicholas Latifi     Carlin Dallara-VW           + 6.940s
 6.  Int    Jordan King         Carlin Dallara-VW           + 7.380s
 7.  Int    Tatiana Calderon    Double R Dallara-Merc      + 13.524s
 8.  Int    Felipe Guimaraes    Fortec Dallara-Merc        + 19.379s
 9.  Inv    John Bryan-Meisner  Performance Dallara-VW     + 19.892s
10.  Int    Jann Mardenborough  Carlin Dallara-VW          + 21.652s
11.  Nat    Ed Jones            West-Tec Dallara-Toyota    + 48.613s
12.  Nat    Roberto la Rocca    West-Tec Dallara-Toyota    + 58.350s
13.  Nat    Cameron Twynham     West-Tec Dallara-Toyota  + 1m05.976s
14.  Nat    Liam Venter         West-Tec Dallara-Toyota  + 1m07.444s
15.  Nat    Sun Zheng           CFDallara-Mugen          + 1m08.238s
16.  Nat    Chris Vlok          West-Tec Dallara-Toyota  + 1m11.105s
17.  Nat    Sean Walkinshaw     West-Tec Dallara-Toyota  + 1m21.224s
18.  Nat    Huan Zhu            West-Tec Dallara-Toyota  + 1m24.793s
19.  Nat B  Alice Powell        MBR Dallara-Toyota       + 1m48.616s