Crash interrupts Daytona NASCAR Sprint Cup testing
| | |
| --- | --- |
| | Friday, January 11th 2013, 23:52 GMT |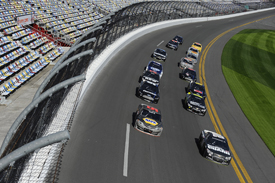 The second day of NASCAR Sprint Cup testing at Daytona on Friday was marred by a massive accident that has ruled several teams out of the rest of the test.
The multi-car crash was triggered when Dale Earnhardt Jr made contact with Marcos Ambrose as a large group of drivers practiced pack drafting.
Ambrose's Richard Petty Ford spun down the track and triggered a chain reaction involving most of those behind, including reigning champion Brad Keselowski. Twelve cars were ultimately caught up in the crash.
With spares at a premium in the early days of the new Gen-6 car, and amid fears that the incident would dissuade teams from further pack testing on Saturday's final day of running, many squads packed up afterwards to prepare for next week's Charlotte test.
NASCAR still expects more than half the field to remain for Saturday. Although Penske, Michael Waltrip Racing and Petty are among those leaving the test, Roush Fenway, Richard Childress and Stewart-Haas Racing are staying on.
Ambrose said he bore no animosity towards Earnhardt for the crash, suggesting that the 2013 cars' body shapes made such incidents more likely.
"I guess I just got caught on the edge of the bumper there and just with the shaped noses and the tyres, it just spun me out," he said.
"It was hardly even a bump. It was just enough at the wrong angle, wrong time and I just went for a spin.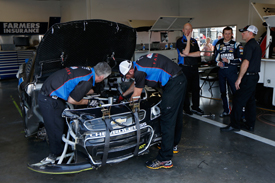 "I feel bad for everybody because quite a few cars were torn up there.
"I definitely think it's a consequence of the new shape. The car's very light and it doesn't take much."
Earnhardt agreed that the Gen-6 car's handling characteristics were the main factor.
"You've definitely got to be more careful pushing people," he said.
"The cars are really tail happy and real loose because of the downforce they have on the back. So it's a little bit more of a handful."
Trevor Bayne, winner of the 2011 Daytona 500, set the day's fastest pace with a 199.650mph lap in the afternoon session.