Adrian Quaife-Hobbs says he is very close to GP2 deal
| | |
| --- | --- |
| By Matt Beer | Friday, January 11th 2013, 13:50 GMT |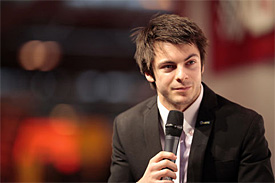 Auto GP champion Adrian Quaife-Hobbs says he is on the brink of securing a GP2 drive for 2013 and has no interest in racing anywhere else this season.
Speaking at AUTOSPORT International, Quaife-Hobbs said securing the final part of his budget was the only remaining hurdle.
"That's what holding us back from signing a deal at the moment, but we're working on it and we're quite close," he said on the AUTOSPORT Stage with KX.
"There's less than half the grid signed at the moment so there's not really a rush. We've got another six or seven weeks until we have go to testing."
Quaife-Hobbs ruled out defending his Auto GP crown if he falls short on finance for GP2.
"There's not another plan because that's where we're aiming to be and it's where I need to be this year," he said.
"I definitely wouldn't be doing Auto GP again because I've won it.
"GP2 is where I need to be to get to Formula 1."
The 21-year-old dominated Auto GP last season, and argued that his pace in GP2 testing proved that his 2012 success was down to his speed, not a lack of opposition.
"It's never easy. We might've had fantastic results when you look at the CV, but nothing's ever easy," Quaife-Hobbs said.
"I think that was proved when I went into GP2 testing in the winter.
"I was second at Barcelona with Addax and then I was third at Jerez with Arden, and I've never been to the circuit. Two completely different teams and the same result, against drivers that have been doing GP2 for a number of years."