AUTOSPORT Awards: Bob Dance wins John Bolster Award
| | |
| --- | --- |
| By Jamie O'Leary | Sunday, December 2nd 2012, 22:50 GMT |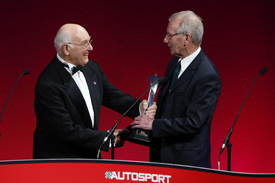 Bob Dance, former Lotus chief mechanic in both the 1960s and again from 1976-94, has been honoured with a John Bolster Award at the AUTOSPORT Awards in recognition of his outstanding achievements in motorsport.
Dance's motorsport career is as impressive as it is extensive. From his first forays into the sport in 1950 through to his Formula 1 spells with Lotus, March and Brabham and later work with the Audi and Bentley Le Mans projects, he has been driven by unstinting passion and fastidious attention to detail.
His work continues to this day as an integral member of Classic Team Lotus.
Dance, who was presented with his award by Murray Walker, said that Lotus founder Colin Chapman had tried to dissuade him from joining the F1 team in the early days.
"I asked him if I could switch from the components and developments department at Lotus to the race team," Dance said. "But Colin said 'Don't do that. It's a dead end job.'
"He was right because here I am all these years later still doing it!"
The 1950 International Trophy Meeting at Silverstone sparked Dance's enthusiasm for motor racing, and within 10 years he had joined Lotus. He began working on gearboxes and other components, earning the nickname Boblotti due to his scrupulous attentiveness, knowledge and skill with the Colotti boxes.
After spending time working for Lotus' customer car racing division, Dance initiated a transfer into the F1 department in 1963. He worked closely with Jim Clark along the way. In 1968 he became chief mechanic, playing a significant role in Graham Hill's 1968 championship triumph in the Cosworth-powered Lotus 49.
Alongside such dramatic highs there were devastating lows, with Clark losing his life in a tragic Hockenheim crash in April the same year.
Dance moved away from Lotus to work with Max Mosley's new March outfit, and then later joined Bernie Ecclestone's Brabham. At the time he worked not only with Carlos Pace and Carlos Reutemann but also the man he calls the best designer of the time, Gordon Murray.
Lotus beckoned once more in 1976, with Dance joining as chief mechanic. He stayed until the doors closed in 1994, as a result working with Mario Andretti, Emerson Fittipaldi, Ayrton Senna and Mika Hakkinen.
The F1 team's demise failed to put Dance out of motorsport. He joined TOM's GB and then Audi subsidiary RTN, becoming involved in the R8C Le Mans project that morphed into Bentley's 2003 race-winner.
RTN shut in 2004 but Dance, now 77, found a new opening at Classic Team Lotus, working under Chapman's son Clive.