Sebastian Vettel rose above gamesmanship from F1 rivals - Horner
| | |
| --- | --- |
| By Sam Tremayne and Pablo Elizalde | Wednesday, November 28th 2012, 18:53 GMT |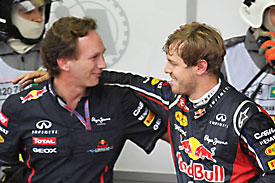 Red Bull boss Christian Horner admits he was impressed by the way Sebastian Vettel managed to keep his focus and rise above the 'gamesmanship' of rival teams.
The German decried the use of 'dirty tricks' in the aftermath of clinching his third straight Formula 1 World Championship crown.
Red Bull and Vettel were embroiled in several rows across 2012, including technical disputes and speculation linking him to Ferrari.
Horner praised Vettel for not allowing such gamesmanship to affect his focus.
"I think there have been several of his opponents that have tried to [get under his skin]. It is part of sport isn't it," Horner said during a media event in Milton Keynes.
"Sebastian showed the true strength of his character because he has not got involved.
"In many respects I'd suggest [it was] gamesmanship, but he's never allowed it to distract him, he's always maintained his focus."
Asked whether it had ever gone too far, Horner replied: "I think that everybody has their own way and their own character...
"The success we have had sometimes does not sit too easily with some of our more established colleagues, [but] we don't allow it to distract us. We focus on ourselves; on what we can do."
Horner believes Vettel's 2012 triumph is his best yet, particularly because he and Red Bull had significant ground to make up across the second half of the season.
In contrast to 2011, when Vettel racked up 11 wins and clinched the title with four races to go, he had to overcome a 39-point deficit to Fernando Alonso in order to clinch this year's crown.
"I think in many respects this championship is his best," Horner said.
"He's had to work so hard for it. His mental strength has always been very, very impressive, but this year again he's stepped it up another level.
"He's never given up, he's never allowed himself to get distracted no matter whether people have tried to get under his skin or not.
"He has never allowed his focus to wane, and almost the more the pressure he has been under the better he has delivered.
"He knew coming out of the summer break 39 points behind that he needed to start delivering and he put a string of four race wins together which was hugely impressive.
"But beyond that his drive back in Abu Dhabi was massively impressive and the mental strength he has - on Sunday [in Brazil] a lot of lesser drivers would have wilted under that pressure."