Brazilian GP: Sebastian Vettel says form unclear after practice
| | |
| --- | --- |
| By Jonathan Noble and Matt Beer | Friday, November 23rd 2012, 18:06 GMT |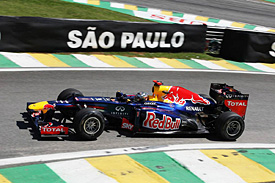 Formula 1 championship leader Sebastian Vettel says he is none the wiser about form for the title-deciding Brazilian Grand Prix after Friday practice given the uncertain weather forecast for the weekend.
Vettel was second behind Lewis Hamilton's McLaren in both Friday sessions.
"It was very slippery for everyone, quite hot today and in terms of track conditions not that easy," said Vettel.
"So everyone suffered the same kind of problems - track, stability and so on - so we have to do our homework now no matter what the weather forecast says."
Asked if he was feeling confident in his Red Bull this weekend, Vettel replied: "We will see. It is a bit unknown what is going to come. So far we can be happy.
"We have to do our homework and improve the car, there is a lot still to come.
"Obviously we don't know what the weather is going to do. Today is incredibly hot, tomorrow is supposed to be hot with maybe some rain, and Sunday a bit cooler - this is Sao Paulo so it could be anything."
Vettel's team-mate Mark Webber was third fastest, and said he was only focusing on his own prospects for now rather than considering how to assist Red Bull's title push.
"I don't think I can do anything different," Webber said.
"I just press on and concentrate on executing the cleanest weekend possible for myself.
"If you go through all the connotations of 'let's do this' and 'let's do that', it will never happen anyway. So we just concentrate on ourselves."
CHAMPIONSHIP PERMUTATIONS
VETTEL WINS THE TITLE IF:
- He finishes in the top four
- He finishes fifth, sixth or seventh and Alonso doesn't win
- He finishes eighth or ninth and Alonso is third or lower
- He finishes 10th or worse and Alonso isn't on the podium
ALONSO WINS THE TITLE IF:
- He wins and Vettel is fifth or lower
- He is second and Vettel eighth or lower
- He is third and Vettel is 10th or lower