Lotus F1 simulator now fully up and running
| | |
| --- | --- |
| By Jonathan Noble | Thursday, November 22nd 2012, 12:15 GMT |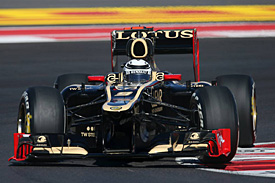 Lotus's hopes of making further progress on track next season have been boosted with its new simulator now fully up and running.
After months of development, Romain Grosjean was the first of its race drivers to try out the new simulator in Enstone ahead of the United States Grand Prix.
The Frenchman said that there was still more calibration work to do before the team could be satisfied it was ready but, by the start of next season, the outfit should be on a good development path with it.
"I did half a day at the factory before Austin and it was my first time in the simulator," said Grosjean, who said previous race preparations had been done on computer games and YouTube.
"We still have some work to do on it, as it is still not an easy tool. But by the time we get it working properly, it should be a good help for us. I was very happy to discover that."
Grosjean believes that having a top-line simulator on tap for 2013 will be as much a benefit for the team's engineers as it will be for the drivers.
"It depends how far as we can go with it," he said. "If we really manage to make it efficient set-up wise, it could be useful for testing the things that we don't have time to test on track.
"But we need to get to a high level of feeling and understandings and correlation between the track and simulator for that."
Grosjean's team-mate Kimi Raikkonen will not drive in the simulator, because he is not keen on using them.