US GP: Kimi Raikkonen surprised by Lotus form after P4 on the grid
| | |
| --- | --- |
| By Matt Beer | Saturday, November 17th 2012, 21:56 GMT |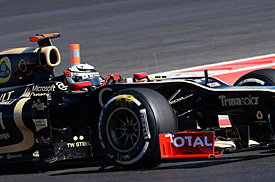 Kimi Raikkonen described Lotus's strong United States Grand Prix qualifying form as a pleasant surprise given how badly it had struggled with tyre issues in practice.
The Abu Dhabi race winner had hoped on Friday that Lotus would find form once the surface of the new Austin track cleaned and it became easier to get this weekend's medium Pirellis into their operating window.
As Lotus continued to struggle in practice, it looked unlikely that the team would be a frontrunner.
But in qualifying Romain Grosjean and Raikkonen were able to take fourth and fifth places. Grosjean will move back five positions due to a gearbox-change penalty.
"I think it's been very difficult to get the car working at some races where it's been difficult to get the tyres working," said Raikkonen.
"I really expected a much more difficult qualifying, but luckily it warmed up a bit and we got the tyres working a bit better.
"It's still not 100 per cent what we want, but it's getting there, so this is pretty good after how difficult it's been."
The Finn admitted that Grosjean's penalty was a mixed blessing for him, as it would elevate his car onto the dirty side of the grid in fourth.
"I'd probably rather take fifth place but if we can make a good start hopefully we won't lose too many places," Raikkonen said.
Grosjean was particularly pleased with his qualifying pace given his gearbox drama in practice.
"The guys did an awesome job to change the gearbox between P3 and qualifying. It was really tight," he said.
"So it's good to be able to do that - miss half of P3, then jump in and just go for it.
"I think we did quite well today. It's good to be back at the front in qualy."