Touring car driver killed in Macau GP support-event session
| | |
| --- | --- |
| | Friday, November 16th 2012, 10:47 GMT |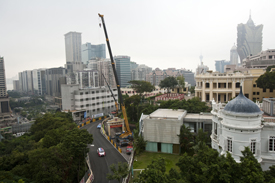 A touring car driver has died following an accident in qualifying for one of the Macau Grand Prix support races.
Phillip Yau Wing Choi, from Hong Kong, crashed his Look Fong Racing Chevrolet Cruze heavily during qualifying for the CTM Macau Touring Car Cup at the high-speed Mandarin bend near the start of the lap.
After coming to rest with heavy damage and on fire, the car was cut open by rescue crews. Yau was taken to a nearby hospital, where doctors were unable to revive him.
Yau's death comes less than 24 hours after Luis Carreira was killed in practice for the Macau Superbike race.
A statement from the event organisers read: "The Macau Grand Prix Committee regrets to announce that Yau Wing Choi, Phillip, competitor #31 from Hong Kong, competing in the CTM Macau Touring Car Cup, has succumbed to injuries sustained in a racing accident during qualifying this afternoon.
"The incident occurred at Mandarin Bend at 13:11. The qualifying session was immediately red-flagged.
"After the incident, two fully-equipped rescue car were at the scene, followed by the extrication car. The position of the racing car required cutting in order to facilitate extraction.
"At 13:19, the competitor was removed from the car and at 13:20 Mr Yau was transported by ambulance to hospital, where he was admitted at 13:24. Continuous CPR was performed, however he succumbed to his injuries at 13:51.
"The Macau GP Committee has contacted the family and the members of the team. The Committee expresses its sincere condolences."