D'Ambrosio says Austin should be judged only after track is clean
| | |
| --- | --- |
| By Edd Straw | Thursday, November 15th 2012, 15:04 GMT |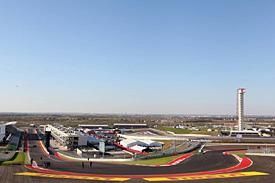 Jerome d'Ambrosio believes that it will be difficult for drivers to see the full potential of the Circuit of the Americas until the track has cleaned up after the first day of running.
The Belgian demonstrated a two-year-old Renault at the track last month, but warned that, as when India made its first appearance on the calendar last year, it will take time for the drivers to get a full appreciation of it.
"If you'd asked me in India last year after Friday morning practice, I'd have said it was going to be an average track," d'Ambrosio told AUTOSPORT.
"But then, as the track cleaned up, you can go one gear higher in every corner and you start to enjoy it more.
"It's difficult to say, but I'm going to be conservative and say that it might be like this."
The Belgian is confident that it will be a good challenge for the drivers, as well as allowing overtaking.
"There are definitely corners that the drivers will enjoy, Turns 3-5 for example," he said. "And there are some good technically challenging corners.
"All round, it's a good track, but it's difficult to judge after just four laps on a very dirty circuit."
D'Ambrosio also spent time in nearby Austin when he visited last month.
He believes that the first grand prix to be held at the venue will be one of the most successful events on the calendar.
"Leaving the track aside, this race is going to be comparable to the Canadian Grand Prix in Montreal.
"It's sold out, which is a great statement of the interest there.
"The city is about half-an-hour away and it's very lively. There will be streets closed down for events during the weekend as well.
"What they want is a good show, a good event and F1 can definitely provide that.
"Not only is the track going to be good to drive, but it's going to be one that produces exciting racing and different strategies.
"Along with the great atmosphere around it, with everyone excited about the race and a nice city, there's all the potential for it to be a very successful race on the calendar."
* To read Jerome d'Ambrosio's in-depth track guide, click here.