Macau WTCC: Tiago Monteiro fastest in testing in new Honda
| | |
| --- | --- |
| By Peter Mills | Thursday, November 15th 2012, 07:23 GMT |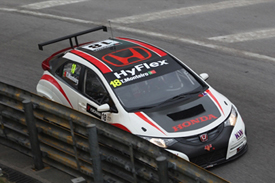 Tiago Monteiro set the pace in the new Honda in Thursday's World Touring Car Championship test in Macau.
The former grand prix driver's time of 2m33.908s was 0.620 seconds faster than Yokohama Independent title challenger Stefano D'Aste.
Monteiro's achievement is the first time the Honda Civic WTCC has topped a test or practice session since its race debut at Suzuka in October.
Several drivers were denied an opportunity of improving their times when Hong Kong racer Darryl O'Young lost control on the exit of the fast Mandarin corner, causing the session to be red-flagged three minutes prematurely.
The Bamboo driver sustained considerable front, and light rear, damage to his Chevrolet Cruze in the incident.
Championship leader Rob Huff was the fastest of RML Chevrolet's three title contenders in third. The Briton led the half hour session from shortly before the midway mark until being usurped by Monteiro two minutes before O'Young's crash.
Huff's closest rival in the standings Alain Menu was seventh, while title outsider Yvan Muller ended the afternoon in 23rd.
Having set the initial pace, Proteam's Mehdi Bennani took a solid fourth fastest ahead of Gabriele Tarquini's Lukoil SEAT.
Independents points leader and former Macau reversed-grid winner Norbert Michelisz finished eighth, two places behind his title rival Pepe Oriola.
ROAL Motorsport's WTCC debutant Kei Cozzolino was lucky to escape a heavy accident when he spun at high-speed spin exiting the Mandarin kink. The Italian restarted to finish 21st fastest, five places behind Macau specialist and fellow 2012 WTCC newcomer Andre Couto.
Veteran Franz Engstler lightly glanced the tyre barriers when he pirouetted his BMW on the entry to R bend, but the German's progress was only momentarily delayed.
Pos  Driver             Team/Car                Time       Gap
 1.  Tiago Monteiro     Honda                   2m33.908s
 2.  Stefano d'Aste     Wiechers BMW            2m34.528s  + 0.620s
 3.  Rob Huff           Chevrolet               2m34.789s  + 0.881s
 4.  Mehdi Bennani      Proteam BMW             2m35.041s  + 1.133s
 5.  Gabriele Tarquini  Lukoil SEAT             2m35.338s  + 1.430s
 6.  Pepe Oriola        Tuenti SEAT             2m35.424s  + 1.516s
 7.  Alain Menu         Chevrolet               2m35.573s  + 1.665s
 8.  Norbert Michelisz  Zengo BMW               2m35.886s  + 1.978s
 9.  Franz Engstler     Engstler BMW            2m36.043s  + 2.135s
10.  Tom Coronel        ROAL BMW                2m36.128s  + 2.220s
11.  Darryl O'Young     Bamboo Chevrolet        2m36.541s  + 2.633s
12.  Fredy Barth        SUNRED SEAT             2m36.831s  + 2.923s
13.  Tom Boardman       Special Tuning SEAT     2m37.807s  + 3.899s
14.  Charles Ng         Engstler BMW            2m38.871s  + 4.963s
15.  Alex MacDowall     Bamboo Chevrolet        2m39.449s  + 5.541s
16.  Andre Couto        Tuenti SEAT             2m39.460s  + 5.552s
17.  Tom Chilton        Arena Ford              2m40.370s  + 6.462s
18.  Aleksei Dudukalo   Lukoil SEAT             2m40.800s  + 6.892s
19.  Fernando Monje     Tuenti SEAT             2m41.134s  + 7.226s
20.  James Nash         Arena Ford              2m41.270s  + 7.362s
21.  Kei Cozzolino      ROAL BMW                2m42.631s  + 8.723s
22.  Filipe de Souza    China Dragon Chevrolet  2m43.723s  + 9.815s
23.  Yvan Muller        Chevrolet               2m43.907s  + 9.999s
24.  Kin Veng Ng        China Dragon Chevrolet  2m44.003s  + 10.095s
25.  Jo Rosa Merzsei    Engstler BMW            2m46.127s  + 12.219s
26.  Eurico de Jesus    Five Auto Honda         2m47.386s  + 13.478s
27.  Celio Alves Dias   China Dragon Chevrolet  2m47.756s  + 13.848s
28.  Ka Lok Mak         RPM BMW                 2m51.731s  + 17.823s
29.  Henry Ho           Five Auto BMW