Vettel says he and Alonso are equally worthy of 2012 F1 crown
| | |
| --- | --- |
| By Pablo Elizalde | Monday, November 12th 2012, 10:10 GMT |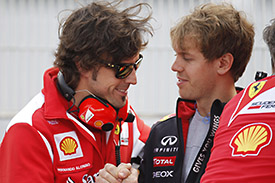 Sebastian Vettel believes he and Fernando Alonso are equally worthy of the 2012 F1 title given their similar share of misfortunes across the season.
Ferrari driver Alonso has stayed in the championship fight all year long despite his car never having looked like the class of the field, making the Spaniard many people's favourite for the title.
A 42-point lead over Vettel has been overturned by Red Bull's late surge however, with Vettel winning four straight races between Singapore and India.
Alonso had a chance to arrest his losses in Abu Dhabi when Vettel was forced to start from the pitlane, only for the German to stage a remarkable recovery and finish third, joining Alonso on the podium. The pair are now separated by just 10 points heading into the final two races.
The reigning world champion believes his and Alonso's misfortunes during the year have evened out, making them both worthy aspirants to the crown.
"If you look at the races we've done so far I think Fernando's and my DNFs or calamities are equal," Vettel said in an interview with the official Formula 1 website.
"I still believe that the driver who deserves it most will be champion.
"No doubt we are in a very good position now and I hope we do well until the very end to make sure that we deserve the glory.
"Of course the last races we had were very good for us, to put it mildly. They have helped us a lot.
"If you look at the whole season with 20 races, you do have incidences that you don't like to have, you probably have some retirements due to technical problems.
"We had those - and hopefully we have now passed this phase.
"It is very hard to run so many races without incidents. It is not something that is part of your calculation, but you have to be prepared when it hits you not to stand there with eyes wide open."
The 25-year-old German will celebrate his 100th grand prix start in this weekend's United States Grand Prix, having made his Formula 1 debut in 2007.
Vettel admitted he found it hard to believe he is already reaching that milestone.
"It's all gone so quickly," he said. "One hundred is a big number - 100 grands prix sounds a lot: 100 starts, 100 times surviving the first corner.
"If I reflect on it, it doesn't feel so long ago that I broke into Formula 1.
"That shows me that time flies when you do something that you really like and enjoy, so let's focus on the second 100."