Valencia MotoGP: Valentino Rossi says last Ducati ride a great pity
| | |
| --- | --- |
| By Toby Moody and Sam Tremayne | Sunday, November 11th 2012, 17:08 GMT |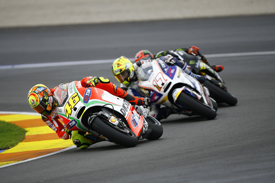 Valentino Rossi labelled his final ride for Ducati, a dreary ride to 10th that included being lapped and finishing behind three CRT bikes, a 'great pity'.
The Italian's two-year spell on the Desmosedici has brought just three podiums for a rider who had previously never failed to win at least once during a season.
For a while at Valencia he did at least enjoy running in the top three, staying out longer than the majority of the field in the hope that forecasted rain would fall and play into his decision to start on wets.
Rossi said the fact the race stayed dry contributed to what was an inglorious end to a once dream marriage with the Italian outfit.
"It was a very bad race," Rossi conceded.
"It was a pity we finished like this because this morning in the warm-up I had a very good feeling, so we were hoping a lot for the rain, the worst conditions.
"We waited and waited for water but it didn't arrive and unfortunately the conditions were half and half [and] very difficult, with just a narrow dry line.
"I was very slow because I was not able to put the bike where I want and the dry line was very narrow.
"I just tried to arrive at the end: I was already very far from the guys in front. It was a pity because in the rain we could maybe do a good race so we waited but it didn't arrive."
Rossi admitted it would be hard to say goodbye to some within the Ducati camp, but said he was at the same time excited about joining Yamaha for the first post-season test in just two days time.
"I would have liked to finish these two years with Ducati better," he explained.
"They were two difficult seasons, but I nonetheless leave behind many people that I enjoyed working with, and with whom it was nice to go racing.
"It's a great pity but we are here to try and get the best results so it's better like this. This adventure is finished after two difficult seasons and now we move forward.
"It will be very important if we are able to do one or two dry days in [the] test to understand our potential, but I am happy [to join Yamaha]."