Le Mans 24 Hours eleventh hour: Treluyer in control at head of Audi 1-2-3
| | |
| --- | --- |
| By Simon Strang | Sunday, June 17th 2012, 00:15 GMT |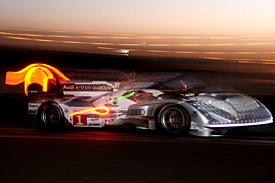 The #1 Audi e-tron quattro driven by Benoit Treluyer remains in control of the 2012 Le Mans 24 Hours as the race passed the through its 11th chapter.

The Frenchman has a two-third's lap advantage over team-mate Tom Kristensen in the sister hybrid machine, with Marco Bonanomi lying third in the #4 R18 ultra a lap off the lead.

The Rebellion Lolas of Neel Jani and Jeroen Bleekemolen remain in fourth and fifth waiting to pounce should anything happen to the turbo-diesels - though the gap to the Audis has increased to six laps now.

There was drama in GTE Pro as the leading #74 Corvette shed a wheel at the top of the hour, just after Tommy Milner handed over to Richard Westbrook.

The Englishman took several minutes to get the car back to the pits, and then when he did, Corvette spent four laps repairing the car's floor.

It has since returned to the pits for further repairs, all of which has left Giancarlo Fisichella out front in the AF Corse Ferrari - which given the team's travails earlier in the week is a remarkable achievement.

Ryan Dalziel maintained the lead in LMP2 while Anthony Pons is on top in the GTE Am.
NOTES
- Westbrook loses a wheel, and with it the lead of the GTE Pro class
- Peter Dumbreck suffers blow-out in the #22 JRM HPD
- Spin at Ford chicane for #21 Strakka HPD
- Problems for the #7 Toyota following collision with DeltaWing at the restart.
- Huge crash for Anthony Davidson in the #8 Toyota, leading to lengthy safety car period.
- #29 Gulf Racing Lola B12 the first official retirement.
- #40 hit with a two-minute stop and go penalty for second pitlane speeding offence.
- 30s pit stop penalties for #40 and #49 LMP2s for speeding in pitlane.
- Audi hits early niggles, with Tom Kristensen the third unexpected delay for the marque across its four cars.
- Early GTE Pro scrap between Corvette, Aston Martin and Ferrari.
- #99 Aston Martin Vantage suffers early misfire and then retires with damage.
POSITIONS AFTER 11 HOURS

Pos Car            Drivers                      Class  Laps  Gap
 1. #1  Audi       Lotterer/Fassler/Treluyer    LMP1   171   
 2. #2  Audi       McNish/Capello/Kristensen    LMP1   171   + 1m49.726s
 3. #4  Audi       Jarvis/Bonanomi/Rockenfeller LMP1   170   +     1 Lap
 4. #12 Lola       Prost/Heidfeld/Jani          LMP1   166   +    5 Laps
 5. #13 Lola       Belicchi/Bleekemolen/Primat  LMP1   165   +    6 Laps
 6. #3  Audi       Gene/Dumas/Duval             LMP1   164   +    7 Laps
 7. #44 HPD        Potolicchio/Dalziel/K-Smith  LMP2   160   +   11 Laps
 8. #49 Oreca      Perez Companc/Kaffer/Ayari   LMP2   160   + 1m20.365s
 9. #22 HPD        Brabham/Dumbreck/Chandhok    LMP1   160   + 2m31.730s
10. #26 Oreca      Ragues/Panciatici/Rusinov    LMP2   160   + 2m44.292s
11. #46 Oreca      Thiriet/Beche/Tinseau        LMP2   159   +   12 Laps
12. #23 Oreca      Tresson/Mailleux/Lombard     LMP2   159   +    4.899s
13. #38 Zytek      Hancock/Dolan/Kurosawa       LMP2   159   +   20.400s
14. #30 Lola       Sims/Buurman/Iannetta        LMP2   158   +   13 Laps
15. #48 Oreca      Firth/Hartley/Hughes         LMP2   158   +   21.494s
16. #33 HPD        Tucker/Bouchut/Diaz          LMP2   158   + 1m57.514s
17. #25 Oreca      Martin/Charouz/Graves        LMP2   158   + 2m04.760s
18. #21 HPD        Leventis/Kane/Watts          LMP1   158   + 2m44.166s
19. #41 Zytek      Zugel/Julian/Gonzalez        LMP2   157   +   14 Laps
20. #15 OAK        Montagny/Kraihamer/Baguette  LMP1   156   +   15 Laps
21. #42 Zytek      Brundle/Brundle/Ordonez      LMP2   156   + 3m02.031s
22. #45 Oreca      Briere/Nakano/Petersen       LMP2   153   +   18 Laps
23. #51 Ferrari    Fisichella/Bruni/Vilander    GTEP   153   + 1m06.213s
24. #59 Ferrari    Makowiecki/Melo/Farnbacher   GTEP   152   +   19 Laps
25. #73 Corvette   Garcia/Magnussen/Taylor      GTEP   152   +   12.246s
26. #31 Lola       Holzer/Schultis/Moro         LMP2   152   + 1m05.368s
27. #35 Morgan     H Hansson/Leinders/Martin    LMP2   152   + 2m17.363s
28. #97 Aston      Mucke/Fernandez/Turner       GTEP   151   +   20 Laps
29. #77 Porsche    Lietz/Lieb/Henzler           GTEP   151   +   37.457s
30. #40 Oreca      Frey/Hirschi/Meichtry        LMP2   150   +   21 Laps
31. #67 Porsche    Pons/Armindo/Narac           GTEA   149   +   22 Laps
32. #50 Corvette   Bornhauser/Canal/Lamy        GTEA   149   + 1m06.108s
33. #74 Corvette   Gavin/Westbrook/Milner       GTEP   149   + 1m13.062s
34. #66 Ferrari    Walker/Cocker/Wills          GTEP   148   +   23 Laps
35. #71 Ferrari    Bertolini/Beretta/Cioci      GTEP   148   +   40.586s
36. #57 Ferrari    Krohn/Jonsson/Rugolo         GTEA   146   +   25 Laps
37. #61 Ferrari    Kauffman/Aguas/Vickers       GTEA   145   +   26 Laps
38. #88 Porsche    Ried/Roda/Ruberti            GTEA   144   +   27 Laps
39. #58 Ferrari    Ehret/Jeannette/Montecalvo   GTEA   144   +   21.458s
40. #70 Corvette   Bourret/Gibon/Belloc         GTEA   142   +   29 Laps
41. #17 Dome       Minassian/Bourdais/Ara       LMP1   142   +   13.524s
42. #75 Porsche    al Faisal/Curtis/Edwards     GTEA   141   +   30 Laps
43. #24 Morgan     Nicolet/Lahaye/Pla           LMP2   139   +   32 Laps
44. #55 Porsche    Daniels/Palttala/Camathias   GTEA   137   +   34 Laps
45. #79 Porsche    Neiman/Pumpelly/Pilet        GTEA   135   +   36 Laps
46. #43 Norma      Rosier/Haezebrouck/Thirion   LMP2   134   +   37 Laps
47. #83 Ferrari    Rodrigues/Illiano/Ferte      GTEA   124   +   47 Laps
48. #7  Toyota     Wurz/Lapierre/Nakajima       LMP1   134   +   37 Laps
49. #80 Porsche    Bergmeister/Long/Holzer      GTEP   114   +   57 Laps
50. #28 Lola       Giroix/Badey/Johansson       LMP2   92    +   79 Laps
51. #8  Toyota     Davidson/Buemi/Sarrazin      LMP1   82    +   89 Laps
52. #0  DeltaWing  Franchitti/Krumm/Motoyama    CDNT   75    +   96 Laps
53. #81 Ferrari    Perazzini/Cadei/Griffin      GTEA   70    +  101 Laps
54. #99 Aston      Nygaard/Poulsen/Simonsen     GTEA   31    +  140 Laps
55. #16 Pescarolo  Collard/Bouillon/Hall        LMP1   20    +  151 Laps
56. #29 Lola       Ihara/Deletraz/Rostan        LMP2   17    +  154 Laps